Nutcrackers are hand-carved wooden figures that were made as working tools to crack the shells on nuts. Nutcrackers originated in the German countryside in the early 15th century, and depicted trades and occupations common in that time, including soldiers, knights or woodcutters, according to ChristmasCorner.com. Kits are available for a crafter to paint an ornamental personalized nutcracker soldier, Santa, baker or other figure for a collection or gift. Nutcrackers are painted in bright, rich colors with decorative embellishments such as gold uniform epaulets and hat trim.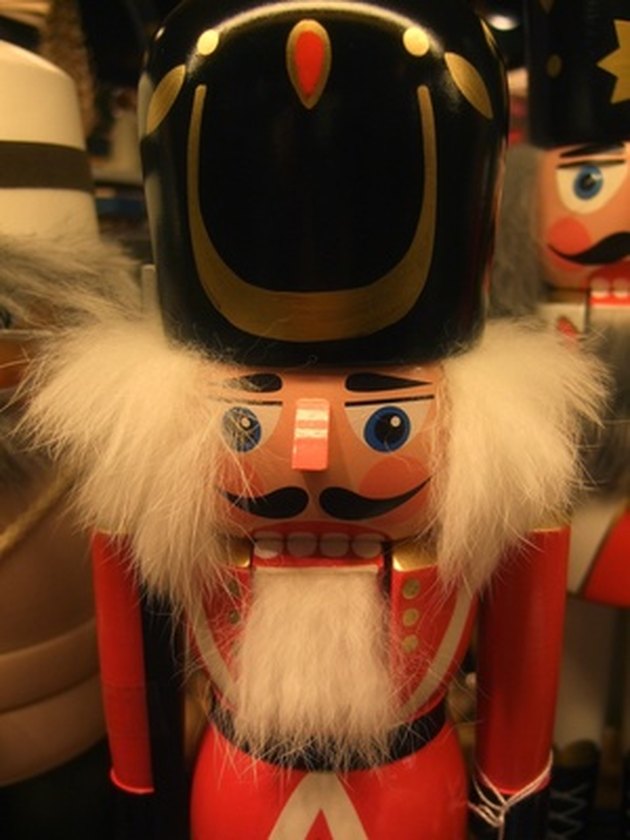 Things You'll Need
Fine grade sandpaper or emery board

Acrylic paint

Number 2 or 3 flat paintbrush

Number 1 round paint brush
Step 1
Sand any surface on the nutcracker that is rough or has a nick in its surface with fine grade sandpaper or an emery board. If the nutcracker has fiber hair and a beard, cover them with plastic food wrap to protect them from dripping paint.
Step 2
Squirt a small amount of black paint onto a palette. You can use a recycled plastic container lid, wax paper or paper plate for a palette.
Step 3
Hold the nutcracker form in one hand. Paint the bottom of the shoes or platform black with a flat brush. Let the paint dry. Paint the top part of the shoes.
Step 4
Paint the face and hands of the nutcracker with a flesh-colored paint and flat brush. Paint on a horizontal line with the curve of the form. Smooth the paint out for a line-free surface.
Step 5
Paint the hair of the figurine, but only if the hair is part of the wooden form. Some nutcrackers may have external fiber hair attached to their heads, and will not need paint.
Step 6
Paint the hat, pants and jacket, including the handle at the back of the nutcracker costume, with bright colors using the flat paintbrush. Paint in a vertical line in a downward motion to keep the paint smooth against the wood.
Step 7
Paint the fine details of the nutcracker character such as facial features, belt, buckle and buttons with the small, round paintbrush. Pay attention to traditional nutcracker facial details. Paint round, rosy cheeks, large half-moon shaped eyes with big round irises and a two-segment moustache. Add two rows of big square teeth with white paint in the mechanism where the nut is placed to be cracked open. Let the paint dry for at least three hours.
Step 8
Coat all of the painted surfaces of the nutcracker entirely with an acrylic-based sealant. Let the sealant dry thoroughly.
Tip
Use a toothpick to lift away any bristles that come out of the paintbrush before the paint dries. Repaint the area. Make sure to clean the paintbrushes thoroughly in water before changing colors to prevent a muddy color effect.
Warning
Do not use a cheap plastic bristle brush on a nutcracker painting project. The hard bristles leave marks in the painted surface.