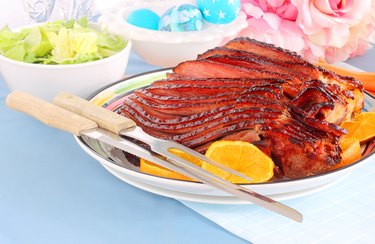 A baked potato with butter, a burger with cheese, a taco with salsa, waffles with maple syrup – some foods just need to get dressed up with a little something extra in order to seem truly complete. A ham is one of those things that just feels naked without a glaze, and when it comes to the best glaze for ham, brown sugar is king.
Whether you're making an Easter or Christmas ham, trying to make something special for your Hawaiian dinner party or just baking one for the heck of it, a nice brown sugar glaze can mean the difference between a ham that's just "good" and one that is truly memorable.
Total Time: 3 1/2 hours | Prep Time: 30 minutes | Serves: 10
1 ham (bone in, boneless, fully cooked, cook before eating or spiral cut are all fine)
1 cup dark brown sugar
1/2 cup orange juice or pineapple juice or apple cider vinegar
1/2 cup honey or maple syrup
1 teaspoon cinnamon
1/2 teaspoon cloves
3 tablespoons Dijon mustard (optional)
1/2 teaspoon nutmeg (optional)
1/2 teaspoon allspice (optional)
1 ounce whole cloves (optional)
2 (15-ounce) cans sliced pineapple (optional)
1 jar maraschino cherries (optional)
Remove the ham from the refrigerator 1 to 2 hours before cooking to allow it to reach room temperature.


Determine the flavor profile you want in your ham. A good base recipe uses brown sugar, orange juice, honey, cinnamon and cloves, but you can add Dijon mustard if you like a mustard flavor in your ham glaze. You can use pineapple juice in place of orange juice for a tropical taste or maple syrup in place of honey for a maple flavor. For a little holiday spice, replace the orange juice with apple cider vinegar and add nutmeg and allspice to the blend.


Heat your oven to 325F or 275F if you are cooking a spiral-cut ham.


In a large roasting pan, place the ham cut-side down. You may put tin foil down first if you want to make cleanup easier later on. With a knife, score the sides of the ham about 1/2-inch deep in sections about 1-inch wide and then cut additional scores at a 90-degree angle to create squares on the surface of the ham. This will not only make your ham look more memorable, but it will give your glaze more surface area to which it can stick, allowing more flavor to penetrate your ham. If using a spiral ham, do not score the sides, as it is essentially already scored.


For a brown sugar, pineapple ham with the classic pineapple and cherry decorations, use toothpicks or cloves to secure pineapple slices to the sides of the ham. Then, use toothpicks to secure cherries in the center of the pineapple rings. You can also use cloves on the intersections of the score marks without the pineapple and cherries to add a little more decoration without the fruity flavors of pineapple and cherry. Do not secure anything to the side of a spiral ham, as the toothpicks and cloves will not properly secure to the small slices of meat.


Determine how long to cook your ham based on the type. If labeled "cook before eating," cook until the internal temperature reaches 160F. This takes around 18 to 20 minutes per pound for a whole ham (these usually weigh 10 to 15 pounds), 20 minutes per pound for a half ham (these usually weigh 5 to 7 pounds) or 35 minutes per pound for a shank or butt portion (these generally are around 3 to 4 pounds). Fully-cooked hams only need to reach 140F internally before serving. This takes about 15 to 18 minutes per pound in whole hams, 18 to 20 minutes per pound in half hams, 15 minutes per pound for boneless hams or 13 minutes per pound for spiral-cut hams.


Place the ham in the oven and set the timer based on the determined cooking time.


When the ham has about 40 minutes left, prepare your glaze in a medium saucepan by combining your choice of ingredients. Cook at medium heat until boiling and cook 3 to 4 minutes until the glaze begins to thicken.


When the ham has 30 minutes left on the timer, brush warm glaze all over the side of the ham and over the tops of the pineapples, cherries and/or cloves, if using. Tent it with tin foil and then put the ham back in the oven.


10 minutes before the ham is done, reapply the glaze. Do not reapply the tin foil. Turn the temperature up to 400F. Put the ham back in the oven for the remaining 10 minutes.


If you have any additional glaze left when the ham is done cooking, mix it with the drippings from the pan and brush it over the ham and on the pineapples, cherries and/or cloves, if using. Reapply the tin-foil tent.


Allow the ham to rest with tin foil on top for at least 15 minutes before serving.


You may want to show guests the whole ham before carving if you applied pineapple or cloves, but you'll need to remove them before carving. If you did decorate the ham with pineapples or cloves, remove the cloves and/or toothpicks and set any removed fruit aside to be served beside the meat after it is carved.
Tip
The size of the ham doesn't really matter for this recipe, as it should make enough glaze for most hams. You should ideally have a minimum of 3/4 pounds of bone-in ham or 1/2 pound of boneless ham per person, ideally with a little left over for sandwiches the next day. For a particularly large ham (more than 15 pounds), double the amount of glaze you make.
Some ham recipes call for adding glaze before cooking, but this does not result in the glaze penetrating the meat any more than it does when added in the last half hour of cooking time. It's best to avoid applying glaze before cooking because at best it won't add any additional flavor and at worst the sugars may caramelize too much, creating a strange flavor and overly crunchy edges. In some cases, the sugars may even burn, and you'll have to trim off all the burned outer meat and serve scraps of ham that don't taste particularly great.