Things You'll Need
Bucket

Ammonia

Clean cloths

Bowl

Talcum powder

Spoon

Spatula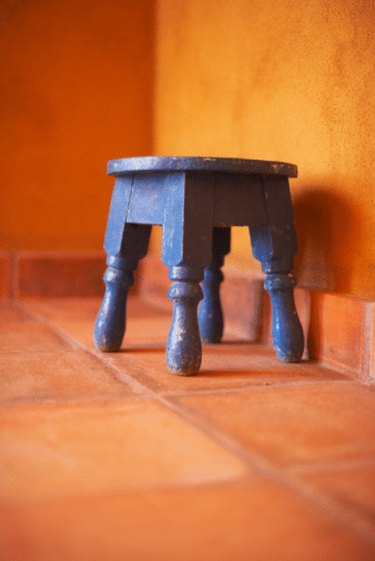 Terra cotta is a natural material made from baked clay. Similar to other natural surfaces, it easily absorbs stains. When mildew grows on your terra cotta surface, it quickly spreads when left in a damp, warm environment. Mildew must be removed completely to maintain the condition of your terra cotta but also must be removed carefully to avoid damage. Techniques and supplies appropriate for natural surfaces help you complete this task while keeping your surface in the best shape possible. Work in a well-ventilated area and wear protective gloves when using ammonia.
Step 1
Mix 1/2 cup ammonia into a bucket of water. Dampen a clean cloth with the weak ammonia solution and wring out as much of the liquid as possible.
Step 2
Wipe the terra cotta surface with the ammonia-dampened cloth to kill mildew and remove stains. Rinse your cloth with water so the stains aren't transferred back to the terra cotta. Apply more diluted ammonia and continue to clean off the mildew stains.
Step 3
Dry your terra cotta surface with a clean, dry cloth.
Step 4
Create a mildew stain-removing poultice with talcum powder and ammonia. Use just enough ammonia to make a peanut butter-like paste with the talc. Spread the poultice over the remaining mildew stains on your terra cotta surface and allow the paste to dry completely.
Step 5
Scoop up the dried poultice with a rubber spatula. Throw the dried poultice out in a bag and seal it. Dampen a clean cloth with water and wipe the surface clean. Dry with another clean cloth.
Tip
Ensure that water never sits on your terra cotta surface.
Regularly check terra cotta outdoors to make sure it's clean and dry. A dirty surface provides a place for mildew to develop.
Warning
Never combine ammonia with bleach or other chemicals. Mixtures produce poisonous gas.
Don't use abrasive cleansers to remove mildew stains, as this will scratch the terra cotta.