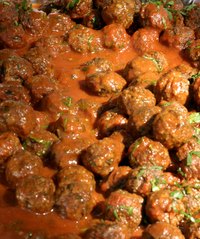 Meatball recipes vary according to personal tastes. They generally include ingredients like breadcrumbs, eggs and spices. Once you prepare and roll meatballs, you can steam, fry or bake them -- but baking meatballs prevents adding any additional grease or fat. After you bake homemade meatballs, toss them into spaghetti sauce, create a meatball sandwich or serve them as appetizers.
Things You'll Need
Baking sheets
Aluminum foil
Nonstick spray
3 lbs. ground beef
1 1/2 cups dry breadcrumbs
Can cream of mushroom soup
3 lightly beaten eggs
1/4 cup Parmesan cheese
Bowl
Meat thermometer
Heat the oven to 350 degrees Fahrenheit.
Line two baking sheets with aluminum foil. Spray the foil with nonstick spray.
Combine 3 lbs. of ground beef, 1 1/2 cups of dry breadcrumbs, a can of cream of mushroom soup, three lightly beaten eggs and 1/4 cup of grated Parmesan cheese in a bowl. Mix the ingredients well.
Shape the meat mixture into balls that are 1 to 1 1/2 inches in diameter. Place the formed meatballs onto the baking sheets.
Bake the meatballs in the oven for 30 minutes or until the internal temperature reaches 160 degrees Fahrenheit. Place a clean meat thermometer into the center of one or two meatballs to verify this temperature.
Remove the meatballs and use them immediately while they are still warm.