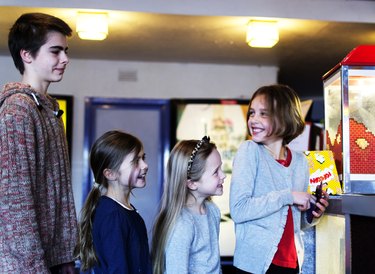 Having your child's birthday party at a movie theater allows your kid to be the star attraction for a day. The theater does most of the work, which minimizes the stress of party planning and makes the party more fun for mom and dad, too. Most theaters offer various birthday party packages that include a special party room, with tables, decorations and other party perks for entertaining guests before the move begins.
Planning Ahead
Theaters generally cannot grant requests for specific movies. Movies are subject to availability because theaters show movies on a schedule determined primarily by film companies. However, most large theaters offer at least one G or PG movies at all times. Theaters usually announce the movies about a week ahead, so select your movie and make reservations as soon as possible; time slots are often filled quickly, especially on Saturdays.
Party Packages
Pricing for theater birthday parties vary. Most theaters offer one or more packages, which generally include movie tickets and the use of a party room for a set time, usually one to three hours. Package price generally includes a birthday assistant, theater-themed decorations and cleanup after the party. Some theaters charge a group fee for a certain number of guests: usually 15 or 20, with an extra per-person charge for each additional guest. Others offer a by-the-person charge instead of a group rate. Some theaters offer extras such as a tour of the projection booth.
Refreshments
Beverages and popcorn are usually included in the package price. The host is responsible for the birthday cake and ice cream, as well as cups, plates, forks and napkins. Extras such as pizza, hot dogs or cotton candy are generally available for an additional price. A refrigerator-freezer is usually available to store cake and ice cream while guests are watching the movie.
Invitations
Send birthday invitations announcing specific details when you have finalized planning for the event. Most theaters request that birthday party hosts gather with guests outside the theater before the party, so be sure to include an exact location. You can announce the movie; however, specific movies are always subject to change due to lack of availability and other unavoidable events. Some theater websites simplify the process by offering party invitations that you can print and mail.