Things You'll Need
Vegetable brush

Fork

Olive oil

Salt

Knife

Toppings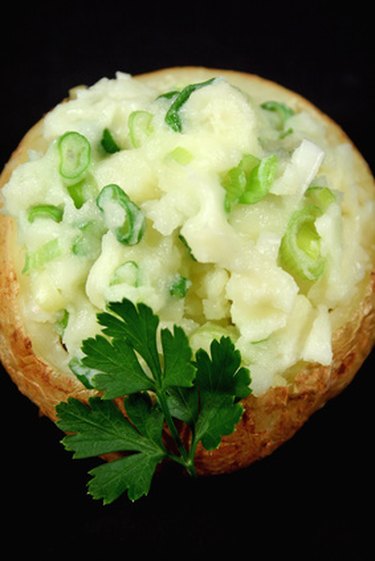 Russet potatoes have brown skins and white flesh. They are one of the most common potatoes and are often used to make french fries. Potatoes are starchy vegetables that are high in vitamin C, potassium, fiber and niacin. Baking the potatoes in the oven gives them a soft texture. After you bake the potatoes, you can add your favorite toppings to personalize them to your tastes.
Step 2
Rinse the potato under cool running water. Scrub the potato skin with a vegetable brush.
Step 3
Pierce the potato skin with a fork in two to three different locations. This will allow the steam to escape.
Step 4
Rub the potato skin with olive oil. Sprinkle table salt over the skin.
Step 5
Place the russet potato in the oven directly on the grates. Bake it for 90 minutes or until tender. Poke the potato with a fork or knife to determine if the inside is tender.
Step 6
Remove the potato from the oven. Slice the baked potato in half. Serve the potato with cheese, butter, sour cream or any other desired toppings.
Warning
Avoid overcooking the potato; it can become too dry.