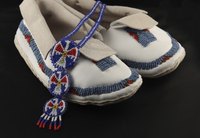 When you master beading moccasins, you can -- literally -- walk away with a one-of-a-kind pair of shoes. Traditionally a lazy, or lane, stitch is used on leather -- meaning beads are stitched on in lines, or lanes. While this sounds simple enough, working on leather is a skill that takes some practice. The thread is worked inside the leather, which helps prevent the thread from wearing out.
Things You'll Need
Moccasins
Beads
Sinew or heavy beading thread
Sharp needle
Scissors
Pattern or design
Optional
Beeswax or thread conditioner
Quilting thimble
Pencil
Awl
Painting With Beads
Mark the pattern lightly in the moccasins with pencil, if desired, to help keep lines straight. Do not press hard enough to dent the leather, as this will become permanent and will show once the moccasins are done.
Thread the needle. Tie a knot in the end of the thread and draw the thread from the back of the moccasins to the front at the edge of the design until the knot catches on the leather.
Load the beads onto the needle in the correct order for the design and move them down the thread to the leather. Usually lane stitch uses seven or eight beads to a row, but smaller rows to fit the pattern or the size of the moccasins are fine.
Press the needle halfway into the leather at the end of the row. Do not go all the way through the leather. Turn the needle and press it into the leather a bead width apart in the pattern. This is where the needle will emerge from the leather. The thread will be inside the leather.
Pull the thread tight. Load the beads for the next row onto the needle and repeat. The beads may form an arch when the thread is tightened.
Push the needle all the way through the leather and knot when changing thread or when the pattern is completed.