Things You'll Need
White butcher paper, brown paper or printed paper

Decorations (rubber stamps, stickers, buttons, ribbons)

Transparent tape

Candy and toys

Awl

Fishing line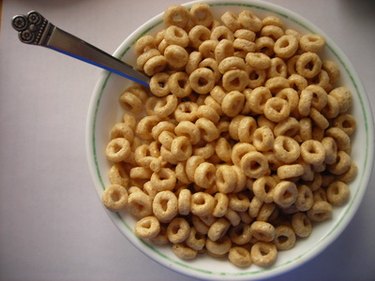 Piñatas appear at many birthday parties and summer celebrations, especially if the family celebrates Cinco de Mayo. Though commercial piñatas are often expensive, you can make an original, colorful piñata for the price of a box of cereal. Let your kids help you make your piñata or let them each make their own. You'll be reducing waste while pumping up the entertainment.
Step 1
Place your empty cereal box on top of your chosen wrapping paper.
Step 2
Wrap the paper around your box like you're wrapping a gift. Tape it to the box. Leave the open end of the box open; the paper should be open here, too.
Step 3
Fill your cereal box with candy and small toys. Close the flaps of the box and fold the paper around it. Secure the paper weakly so it breaks open easily when struck.
Step 4
Decorate the piñata with your paint, stickers, rubber stamps and any other decorations you like. Match the theme of the piñata to your event or simply cover it with colorful, abstract art. Let everything dry overnight.
Step 5
Poke two holes in the top of your piñata about 1 inch apart. Thread a piece of fishing line down through the right hole and up through the left one. Tie the ends of the fishing line together so you can hang the piñata.