Things You'll Need
Screwdriver

Voltmeter

Green 18 gauge wire

Wire cutter and stripper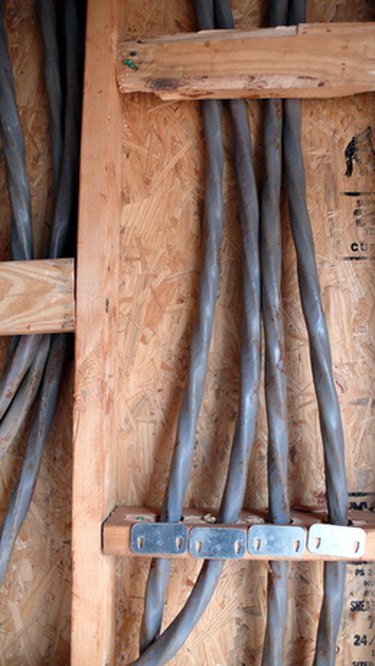 Thermostats provide a variety of options to control the temperature and comfort level of your home. But thermostats can also be used for home air circulation and filtration with the fan-only setting, helping to save on your energy bills. Wiring the fan-only option is not difficult as long as the thermostat model includes this option, and involves a single wire and a little patience.
Step 1
Read the instructions that came with the thermostat and the furnace. Specific requirements can change from model to model and the risk of damaging equipment is always present when proper instructions are not followed.
Step 2
Go to the circuit breaker and turn off the power to the furnace. Due to the possibility of mislabelling and the safety hazards of touching live wires, always check that the power is off by using a voltmeter at the furnace.
Step 3
Remove the faceplate and inspect the wires. Count the number of wires and make sure they are all in good condition.
Step 4
Take note of where each colored wire is connected in the thermostat. The red wire should be connected to the R terminal or the RH or RC terminal when the home has heating and cooling systems. The white wire connects to the W terminal, the yellow wire connects to the Y terminal and the common wire is used with digital thermostats and is usually black or blue.
Step 5
Run an additional wire from the furnace to the terminal in the thermostat labeled G. This is to allow the fan to operate independent of a call for heat.
Step 6
Strip one quarter of an inch on insulation from the new wire. Connect the wire to the furnace circuit board by using the wiring diagram and looking for the terminal labelled G. There will be a slot to insert the wire and screw to tighten it down.
Step 7
Secure the thermostat on the wall while making sure that it is level and close the furnace door.
Step 8
Turn on the power to the furnace, which will also power the thermostat.
Step 9
Test the thermostat fan-only option to verify that everything is working properly.