Things You'll Need
6 boneless, skinless chicken breasts

1 bottle prepared or homemade Italian dressing

Resealable plastic bag or shallow, non-aluminum baking dish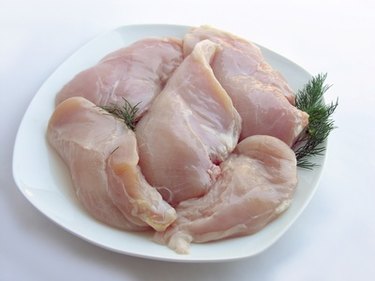 When it comes to cooking, chicken is often the star of the show. Chicken contains little fat and lots of protein, can be cooked in a short amount of time and can be mixed with lots of other foods, from vegetables to peanut butter, to create a meal. There are hundreds of chicken recipes to experiment with, but sometimes you just need a simple dinner solution with a few ingredients and little preparation. Combining chicken with Italian dressing makes for a quick meal that is also full of flavor.
Step 1
Place chicken breasts in a resealable plastic bag or shallow, non-aluminum baking dish.
Step 2
Pour Italian dressing over the chicken to coat.
Step 3
Seal the plastic bag or cover the dish. Place in the refrigerator for 30 minutes to two hours. Use tongs to turn the chicken at least once while marinating.
Step 4
Remove the chicken from the refrigerator. Discard any Italian dressing that remains in the bag or dish.
Step 5
Grill the marinated chicken or bake in a 350 degree oven for 35 to 40 minutes.