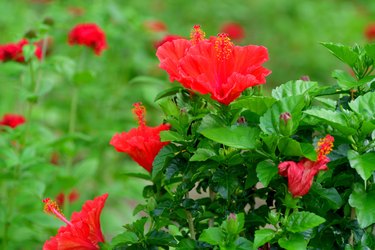 There are a few hundred types of hibiscus (Hibiscus spp.), which are prized for their large, bright, tropical-looking blooms that last for just one day. Not all hibiscus are tropical species, however, and caring for hibiscus during a North Carolina winter will depend on which variety you are growing. Some types of hibiscus can survive winters outdoors in North Carolina, most of which falls in U.S. Department of Agriculture plant hardiness zones 6, 7 and 8. Others can only be grown in containers as annuals or overwintered indoors.
One of the most popular types of hibiscus is the Chinese hibiscus (Hibiscus rosa-sinensis, zones 9-10), which is a tropical evergreen species native to Asia that produces red flowers. Also known as the Hawaiian hibiscus, the Chinese hibiscus can be up to 10 feet tall when grown outdoors. However, in a climate like that of North Carolina, where it would need to be grown in containers and overwintered indoors, this plant is typically pruned to a maximum height of 6 feet. The tropical hibiscus grows best at temperatures of about 50 degrees Fahrenheit and will be injured or die if exposed to temperatures at or below 35 degrees.
While the Chinese hibiscus is not winter hardy in North Carolina, other species of hibiscus are, including the scarlet rose mallow (Hibiscus coccineus, zones 6-9). An herbaceous perennial native to the Southeastern United States, the scarlet rose mallow, as its name suggests, produces red flowers. The swamp mallow (Hibiscus moscheutos, zones 5-9), another native species that has a broader, overlapping range and may have pink or white flowers, is also hardy in North Carolina.
Also in the hibiscus family is the so-called rose of Sharon (Hibiscus syriacus, zones 5-8), which is not a true rose. This deciduous shrub is also winter hardy in North Carolina.
Tropical Hibiscus Winter Care
In North Carolina, a Chinese hibiscus plant can be grown in containers and kept outdoors in the summer. When fall comes around, you'll want to bring the container indoors once temperatures fall below 50 degrees and reduce watering and fertilizer during the winter. The plant should be kept in a room with a temperature around 60 degrees.
Even indoors, a tropical hibiscus plant still needs to be pruned in order to maintain its shape. Each winter, prune out about a third of the plant's old wood and cut stems in half to keep the plant strong and healthy. You can also keep a tropical hibiscus as an indoor plant year-round.
Hardy Hibiscus Winter Care
Herbaceous perennials, like the scarlet rose mallow and the swamp mallow, that are hardy in North Carolina do not require much winter care; they simply die back to the ground and rebloom in the spring.
The rose of Sharon shrub benefits from winter pruning to maintain its shape or to rejuvenate the plant. This shrub blooms on new growth, which means you can prune as much as you need in the winter. This also means that even if the plant suffers from winter injury due to winter winds, it will still flower in the spring.