Things You'll Need
Fiberglass pool structure

Dual skimmers

Slotted return fittings

Control and equipment system

2-stage heater

Ground fault controlling switch

Timer and thermostat relay

Control air tubes

Air blower with 2-pump function

Cartridge filter system with strainer basket

Filter element

Spare gasket and O-rings

Motor pump

2 pumps

4 main suction drains

4 skimmers

Waterproof lighting and wires

Circuit breaker

Air button control center with temperature display

Hot tub jets

Pipe diverter manifolds

Vinyl liner

Craft knife

Sealant

Tarpaulin

Toilet plunger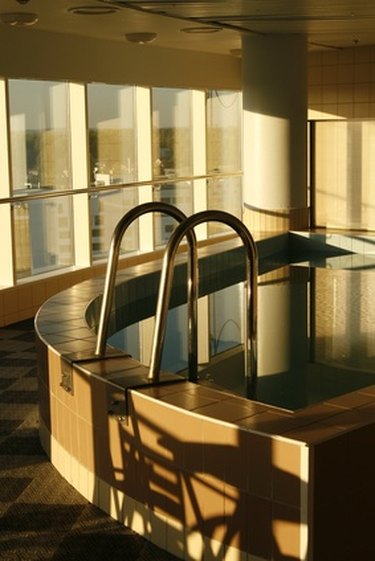 Build a swim spa and hot tub using ready-made kits or from scratch by purchasing and assembling the different components. Make the decision about a kit or separate components based on the inevitable trade-off between price and your technical expertise. Opt for a swim spa without heat elements if you are concerned about additional costs or simplicity of overall installation. According to KP Garden Design and Creative Waters, swim spas are commonly between 4 and 6 meters in length and around 2 meters wide, so aim for this in your design.
Step 1
Set the fiberglass pool structure on flat, dry land. Gunite is also an acceptable material. Install two flooded suction, 4 1/2 horsepower (hp) 2-speed pumps at 220 V. Expect to pay up to a total of $500 for the pumps, according to Spa Pack in 2010. Install the control air tubes from the spa interior to the side controller. Link the the air blower to the controller to regulate the pumps between circulator speed and full-jet action.
Step 2
Install dual skimmers and return fittings rather than the highly-dangerous main-drain style systems of old. Incorporate slotted fitting with eyeballs to improve function, safety and cleanliness.
Step 3
Clean the filter element of the cartridge filter system. Close all the valves. Open the air relief valve only to release pressure. Open the strainer lid. Prime the filter system motor pump by purging air from the system and waiting for water to replace the air bubbles. Clean the strainer basket if it contains any debris. Inspect the gasket and O-rings and replace if damaged. This ensures an air-free, sealed system.
Step 4
Turn off the electricity at your main circuit power breaker. Connect the control center with built-in temperature display to the pumps, lights and blower using wires. Ask for assistance from a qualified electrician to avoid injury. Ensure the wiring and switches are water-resistant and covered adequately to protect them from water damage and to avoid fire risk. Install a specialist, small-current circuit breaker called a ground fault circuit interrupter. Either put it in the main panel box for the house, a sub-panel box at the pool filter end or in an electrical outlet near the pool.
Step 5
Add about 12 hot tub jets for a standard garden spa or your own chosen quantity. Incorporate two hand-held jets using pipe diverter manifolds to route and split the flow. Install a vinyl liner. Create holes for the water jets using a small craft knife, but ensure the edges do not rip and apply sealant. Keep the vinyl protected during the colder months using a tarpaulin, otherwise it can wrinkle. Remove wrinkles using a toilet plunger.
Warning
Never risk the safety of yourself or your family by reducing cost to an unfeasible minimum or attempting construction and installation tasks you are not experienced enough to comple successfully.
Water and electricity are dangerous when used together. Contact a qualified electrician to assist with the wiring aspect of the build.
The powerful suction in a spa is dangerous. Consult an expert before attempting spa building procedures yourself. Never use a main-drain in an outdoor pool. Anti-suction entrapment system failures can cause death by drowning.