Ranging in colors from rich reddish brown to pale pink salmon, Jarrah wood of Western Australia, when left exposed to the elements will turn a silver gray. A manufacturer may initially seal the color with a clear oil to prevent color variation, but you can also finish the product yourself to preserve the luster and uniformity of the wood. Considered an "exotic wood," Jarrah, also known as Eucalyptus Marginata, is extremely heavy and strong and good for high-traffic areas.
Test your intended finish on samples of the Jarrah wood you wish to treat prior to finishing.
Things You'll Need
Australian timber oil for decks, siding, railing and outdoor furniture, or a similar translucent oil

Pure lambswool applicator or high quality natural bristle brush

(Optional: Spray tip size: 0.013 to 0.015 inch at 1,000 to 1,500 pounds per square inch and a fan width of 5 to 8 inches)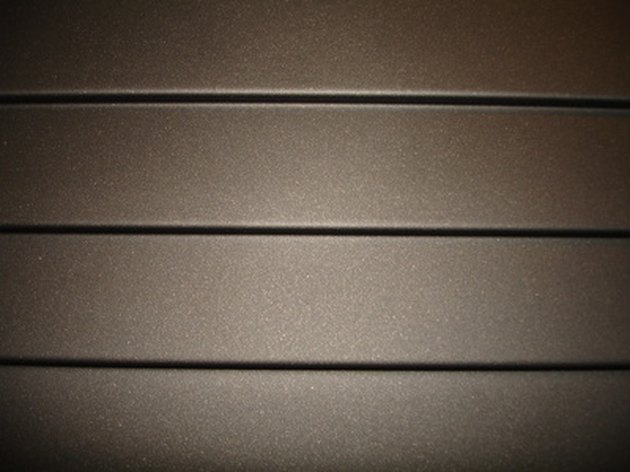 Step 1
Prepare the surface for application. Clean the surface of all mildew, dirt, loose wood fibers and any other foreign matter. Make sure the surface is structurally sound and absolutely dry. The moisture content should be below 15 percent. Achieve this by exposing the Jarrah wood surface to between three and five days of dry weather. If desired, use wood strippers or brighteners to remove any existing oil-based finishes and tannic acid and rust stains. Note that the wood might darken after using these stripping agents. Following these cleaning procedures, sand the surface using 80 to 100 grit sandpaper to open the pores of the wood surface. Note that Jarrah sawdust stains, so avoid getting it onto curtains and upholstery. Also, due to the irregular grain, you may have to sand certain sections more than others.
Step 2
Mix and stir the oil prior to treatment and do so periodically as you continue finishing the surface. Combine batches and blend if multiple batches are required.
Step 3
If spraying the product, immediately back brush a section after it has been coated to ensure thorough penetration. Apply in small sections, two or three boards at a time. You will only need one coat, so do not overapply. If the coating does not penetrate, remove or rub in with a lambswool applicator or soft cloth. For outdoor furniture, rub the finish in this manner for best results. Rub the finish parallel to the wood grain. To avoid lap marks, start along one edge and follow through to the end of the board.
Step 4
Wait about 24 to 48 hours to dry. Depending on the hue of the timber oil selected, ranging from natural to honey to dark, as well as the porosity and natural color variations of the Jarrah wood itself, the final appearance will vary. Also depending on how smooth or rough the surface is, one gallon of a timber oil product could last you through 250 to 600 square feet.
Tip
After use, clean brushes with mineral spirits and place rags, applicators, etc. in water-immersed metal containers.
Dispose of empty cans or remaining product according to local, state and federal regulations.
Use only for exterior surfaces.
Warning
Some manufacturers recommend not to use linseed oil to finish Jarrah, as it could darken the wood over time. If darkened wood is undesirable and your finishing product contains linseed oil, try a different product.
Do not leave excess or unabsorbed product on the flooring or furniture as this will compromise finish longevity; wipe off and remove.
Do not apply in direct sunlight, on hot or wet surfaces, when the temperature is below 50 degrees F or when it is likely to rain.
Do not thin or tint the product.
Do not apply near fresh stucco.