Things You'll Need
Drill set

Rivets the size used by our louvers

Rivet gun

Bicycle oil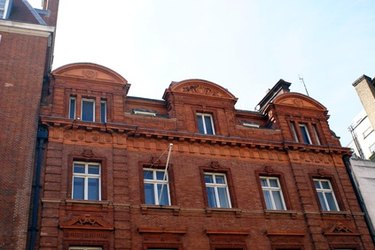 Louvered or jalousie windows are made of horizontal glass slats resting upon one another. The slats move up and down to allow air in and out. They are made out of different types of glass depending upon whether they are being used for privacy or just ventilation. The slats come out easily, making repair fairly simple. These repairs rarely need any specially acquired tools or expertise, so save some money and fix your louvered windows yourself.
Step 1
Locate the louvers that are not moving correctly. Lift the louver gently by the outer sides and push the louver back so it disengages from the hooks holding it in place. Lift it out of the frame.
Step 2
Repeat this on the louvers above and below the problem louver until you have a clear path to the mechanism that raises and lowers the louvers.
Step 3
Look at the rivets that hold the mechanism in place on the side. A frequent problem with louvers is the fact that the head breaks off the rivets and the body stays in place, causing a weakening of the mechanical system.
Step 4
Place a 2-mm bit on the end of the drill and slowly drill through the body of the rivet. The body should come out with the drilling. Discard the old rivet.
Step 5
Place the new rivet in your rivet gun in the hole that is indicated on the rivet gun. Put the end of the rivet that is sticking out of the gun into the hole from which you removed the old rivet.
Step 6
Pull the trigger on the rivet gun gently. Once the rivet is in, check to be sure that the rivet turns freely and easily so the mechanism will work correctly. Use bicycle oil to lubricate all the rivets in the mechanism.
Step 7
Hold the louvers by the edges and place the hooks onto the latches that hold them in place. Lower the louvers until they are in the correct position.
Tip
Removing the slats routinely for cleaning and cleaning the mechanism will cut down on the repairs.
Warning
Check the glass label for instructions on cleaning and only use solutions recommended by the manufacturer.