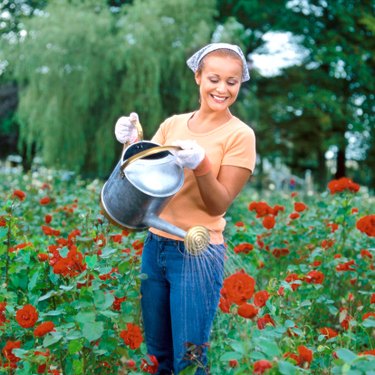 Undoubtedly one of the most popular garden flowers in the world, roses are wonderfully diverse and adaptable to a huge range of climate and soil conditions. Roses thrive especially well in Southern California, soaking up the year-round sunshine and holding up well in even the driest heat – assuming they're well cared for, of course.
SoCal gardeners should learn general rose care tips, but it's best to follow a monthly rose care calendar designed for their own particular hardiness zone. Further, rose care in Southern California means figuring out a system that works best for a specific microclimate, soil type, rose type and individual gardener's inclinations. This all sounds complicated, but planting roses in California – the home of the Rose Parade, after all – is both manageable and rewarding.
The Best Roses for Southern California
A very wide range of roses can thrive in Southern California, including shrub roses, hybrid tea roses, floribundas and miniature roses. Climbing/trailing roses and ground-cover roses are also good landscaping choices. Local experts recommend that gardeners in coastal locations of Southern California with cooler temperatures and morning fog should look for disease-resistant roses with 25 or fewer petals. Inland gardeners should select heat-loving roses and can successfully grow roses with over 25 petals.
Visit a garden center or nursery in your own local area or consult a local rose society or horticultural group for recommendations.
Planting Roses in Southern California
When is the best time to plant roses in California? For bare-root roses, January and February are the best months for planting. This is also the time when they're most widely available for purchase. Otherwise, purchase potted plants during the growing season.
Plant roses in areas with full or part sun, approximately 2 to 3 feet apart for hybrid teas and floribundas or 1 to 2 feet for mini roses. Plant roses in soil with compost amendment and finish with a layer of mulch at least 2 inches thick. Set up drip irrigation with at least two or three drips per plant or establish an appropriate hand-watering schedule.
General Rose Care in Southern California
There are as many opinions on the best ways to care for roses as there are varieties of these remarkable flowers. However, there are some general lessons concerning rose care in Southern California that all gardeners, especially novices, need to know. The goal of rose care other than keeping the plants alive and healthy is to reduce the presence of thorny canes and encourage big, prolific blooms.
Rose care in Southern California requires:
​Watering​: Frequency will vary year-round with fluctuating temperatures but aim to keep the soil just barely moist. Drooping flowers are a sign of too much or too little water. Newly planted roses need more water than established plants. A general rule of thumb is to water twice a week when it's 70 to 80 degrees Fahrenheit, three to four times a week when it's in the 80s, daily if temperatures are in the 90s and twice a day if it's over 100 degrees.


​Deadheading​: Remove spent blooms several times per year. Generally, this means cutting above each set of five leaves but look up the appropriate technique for every rose type.


​Fertilizing​: Apply a synthetic or organic fertilizer designed specifically for roses and follow the manufacturer's instructions for application method and frequency.


​Dormancy​: Southern California's climate means gardeners must force roses into a short period of dormancy in winter. This enables the plant to conserve its energy for a new growing season. Prune back plants by one-third, remove all foliage, apply a dormant spray and add a fresh layer of mulch.
A SoCal Monthly Rose Care Calendar
In winter (November through February), force roses into dormancy, clear away all debris and begin planting new bare-root roses. Expect new growth to start slowly and fertilize when new roses have grown by about 3 inches. Apply half-strength fungicide and insecticide only if you see insects or damage. New buds and perhaps some first blooms should appear by March, with the peak blooming season coming in April. Continue regular fertilizer, fungicide and insecticide applications as needed.
The end of the spring bloom cycle comes around May, so deadhead, continue feeding and increase watering as temperatures rise. The second bloom cycle should come in June but be aware of mildew risk on "June gloom" days. In late summer, retain as much foliage as possible to shade the plant and add more mulch. By September, it's time to do some light pruning and remember to water more often if super-drying Santa Ana winds occur. October is the last month when roses require feeding, according to most monthly rose care calendars.
Rose pests present in Southern California include aphids, snails, spider mites, thrips, grasshoppers, fig beetles, cutter bees and caterpillars. Each has unique symptoms and requires its own solution, typically application of an appropriate insecticide. Aphids are the most common and are attracted to blooms and new foliage. Apply insecticide or tackle pests with a hard stream of water. Some gardeners prefer to crush aphids while wearing gardening gloves.
Powdery mildew is another common challenge to rose care in Southern California. In inland areas, it occurs mostly in spring and fall when temperatures are milder; along the coasts, it can be a problem year-round. Mildew has no cure, so remove all affected parts of the plant and disinfect clippers afterward. Prevent mildew with fungicides.