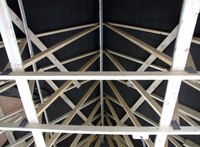 Roof trusses are prefabricated wooden roof members that combine the rafter and ceiling joists of conventional framing into one structural piece. Although a roof truss may be heavier and more difficult to maneuver onto the top of the building than conventional framing lumber, once there it can easily be slid into position and secured. Although trusses may be more expensive that a conventionally framed roof, many builders use roof trusses to save time and labor costs. Once the side walls are marked with the positions of each truss, the trusses are then secured to the walls.
Things You'll Need
Helper
16D common nails
Framing hammer
Builder's level (optional)
Scrap lumber (optional)
Position the bottom horizontal member, or bottom chord, of the truss on the marks on each side wall. Have a helper hold the truss in place.
Hold a 16D common nail at a 45 degree angle approximately two inches up from the bottom of the bottom chord of the truss.
Hold the bottom chord down firmly to the wall top plate with one hand. Use a framing hammer and drive the nail through the truss and into the top plate of the side wall until the nail head is flush with the surface of the bottom chord of the truss.
Toe-nail the opposite side of the bottom chord to the same top plate in the same manner.
Repeat the procedure to secure the other end of the truss to the opposite side wall.