Things You'll Need
Pond pump

Extra hose (if necessary)

Electric hookup

Wet/Dry vacuum (if necessary)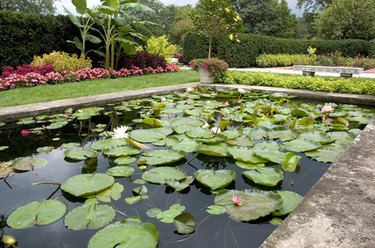 Draining your pond is fairly simple if you have a pond pump handy. You need to drain your pond when winterizing, so having a pump is necessary to help make this messy job a little easier. Whether it be for winterizing or a thorough cleaning, when you have a pond pump, it does almost all the work for you. Depending on what you are draining your pond for, you may need a couple other items handy to complete this project.
Step 1
Make sure all of the plants, fish or other items that you want to save are removed and in a safe place.
Step 2
Put the hose on the pump and make sure it is long enough to reach the location you want the water to be expelled to.
Step 3
Submerge the pump in the deepest part of the pond and plug it in.
Step 4
Once the water level reaches the top of the pump, check and see if there are any leaves present. At this point you may need a wet/dry vacuum. The pump will burn out if it gets clogged with leaves, so make sure to remove the leaves before continuing to pump.
Step 5
As soon as the water is too low for the pump to remove, turn the pump off. Now you should have only 1 or 2 inches of water left. The best way to remove the rest is to use a bucket.
Tip
Wear rubber gloves when emptying the pond in case you need to remove any leaves from the pump.
Warning
Make sure the outlet for the pond pump plug is relatively far from the dumping spot — water does splash a little when coming out.