Things You'll Need
Toilet-paper tube

Scissors

Masking tape

Craft glue

Brown crepe paper

Gold foil
If you are putting together a theatrical production, it is helpful to have costumes and costume accessories that will add to the development of the characters in the play. For example, you can have a businessman or a mafia leader in a play carry a prop cigar to make him look more authentic. You can make your own prop cigars using basic craft materials that can be found at an art-supply store.
Step 1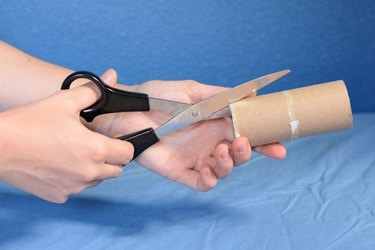 Cut a toilet-paper tube down its length.
Step 2
Roll the tube back up tightly, starting at one of the longest sides, and working your way to the opposite side.
Step 3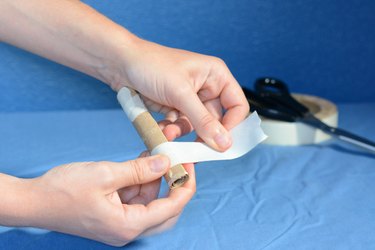 Tape the roll lengthwise with masking tape to secure it.
Step 4
Cut the ends of the roll into points using scissors.
Step 5
Snip the very tips to round them out slightly.
Step 6
Apply craft glue to the outside of the roll.
Step 7
Wrap brown crepe paper around the roll in a spiral, starting at one end and wrapping it around the roll until you reach the other end.
Step 8
Cut out a 2-inch-long, 1/2-inch-wide rectangle from gold foil, which can be found at a craft store.
Step 9
Wrap the rectangle around the middle of the cigar form, and glue the ends to secure it. This will make it look like a real cigar.