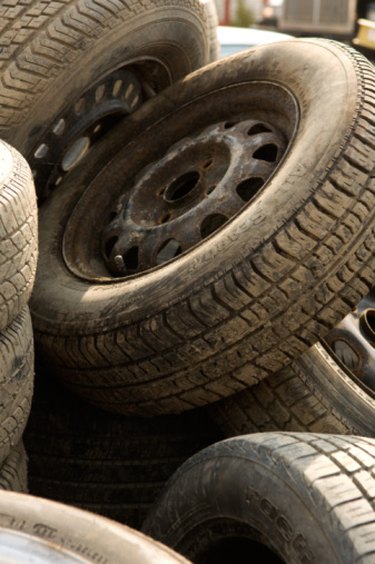 In an effort to reduce the number of waste tire piles in the state, the government of Pennsylvania created and funded a Commonwealth-wide tire recycling initiative. In 1996, there were 36 million waste tires. As of 2010, the Commonwealth has cleaned up 27.8 million tires. According to the Department of Environmental Protection, 12.5 million waste tires are generated and recycled in Pennsylvania each year. Old tires often are ground up into material called "crumb rubber" and put to other uses, such as rubber mulch or a major ingredient in paving material. With several locations in Pennsylvania to recycle old tires, residents should have no problem safely disposing of the wheels.
Step 1
Remove the tires from the rims. Let the air out of them, then use a pry bar to force the tire from the rim so the rim protrudes from the center. Work the pry bar around the rest of the tire to get it out. This makes it easier to recycle the tires, but many transfer stations accept tires on the rims--although you may have to pay more money to recycle them.
Step 2
Bring the tires to one of the 26 listed locations on the Department of Environmental Protection's website. Check with your city or county to see if they plan to hold any collection events for hard-to-recycle materials, and whether or not they accept old tires at such events.
Step 3
Bring the tires to a transfer station and pay the fee. The fee is calculated by weight. As of 2010, each county charges its own rate; Centre County, for example, charges 10 dollars for tires that weight up to 280 pounds, and 70 dollars per ton for tires weighing more than 280 pounds.