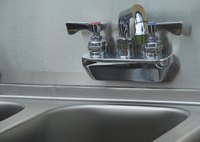 Whether you are installing a toilet, washer, dishwasher or a sink, a sewage basin may be necessary. Sewage basins collect the refuse from these appliances so that they can be pumped into a septic tank or sewage pipe. Installation of a sewage basin must be accompanied by the installation of a sewage pump to remove the refuse from the basin. Most sewage basin installation kits will come with a pump and other required materials such as pipes and grommets.
Things You'll Need
Sewage basin installation kit
Shovel
Crushed rock or pea gravel
Dish soap
File
Drill
3/16-inch drill bit
Sewage Basin Installation Part One
Dig a hole for the basin and sub-base. The hole needs to be deep enough to contain the basin and sub-base. The top of the basin should be flush with the floor.
Pour crushed rock or pea gravel into the hole for the sub-base. Level out the sub-base so that the surface is smooth. The sub-base should be four inches in depth. Place the basin into the hole on top of the sub-base. Add four inches of backfill around the basin, using the crushed rock or pea gravel.
Place the inlet pipe into the rubber grommet, and insert the pipe two inches into the side of the sewage basin. File the edges of the pipe in order to prevent damage to the grommet. Lubricate the grommet before inserting the pipe. The inlet pipe should point down 1/4 inch per foot into the basin.
Connect the discharge pipe to the pump. Drill a 3/16-inch hole into the pipe three inches above the pump's discharge pipe threads. The discharge pipe should stick up out of the top of the basin between six and ten inches. Set the pump and pipe into the basin.
Put the discharge pipe grommet into the basin cover, and push the cover down over the pipe. File the edges of the pipe and lubricate the grommet before insertion.
Pull the electric cords through the center hole in the basin cover, and then place the electric cord grommet into the cover.
Install the vent pipe grommet into the vent pipe hole in the basin cover. Place the vent pipe two inches into the basin. The vent pipe should exit through the roof of the building or attach to an existing vent pipe. Bolt the cover to the basin.
Attach the check valve to the discharge pipe that is coming out of the basin cover. The arrow should point away from the pump, to keep water from flowing back into the basin. Check the connection of the discharge pipe to the sewage tank before plugging the pump into an outlet.