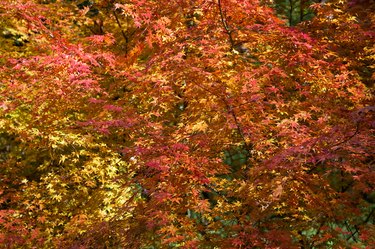 The amur maple tree can be good or bad in certain parts of the United States. Acer tataricum subsp. ginnala is known to be an invasive species, while Acer tataricum subsp. ginnala 'Flame' is a beautiful, noninvasive species. Both acer maples grow to 15 to 20 feet tall and wide and have other similar characteristics. Experts advise against planting the first subspecies in many areas but check with your local garden center if you aren't sure.
Characteristics of Amur Maple Trees
These trees have rounded, dense crowns and can also grow as large shrubs. They have broad, medium-green leaves that grow up to 4 inches long, and these turn yellow and red in autumn. In spring, you'll see greenish-white flowers on long panicles. These flowers are followed by winged samaras, the same kind you'll find on other maple trees. The seeds are between the two wings on either side. What's great about these trees is that those samaras turn red in the summer and fall.
It can be tricky to tell the difference between invasive and noninvasive amur maples. Research has shown that the invasive varieties are known to establish thick, dense canopies that can impact other species growing below them. These trees grow and reproduce quickly, and the heavy canopies can prevent the sun and rain from getting through. While it's not wise to plant new amur trees in certain parts of the country (it's discouraged in Vermont, Minnesota and parts of the Midwest), they are majestic, and you can control them with proper trimming.
Trimming Maple Amur Trees
You can trim Flame amur maple trees and the other species in the same ways; in fact, the methods apply to all maple trees. The perfect time to do this is during the winter or very early spring, as this is when they are dormant. You can cut off dead branches at other times of the year, but that's it. If they are pruned later in the spring, they can bleed sap, which isn't great for the tree itself.
You can trim maple amur bushes to grow into privacy hedges. To encourage more fullness, you should remove the dead wood and then stand back, taking a good look at what's left. Decide on the shape you want and prune the outside in this way. Remove any crossing branches as well as any with narrow angles between two adjoining branches. If there is empty space between the lower ones, try planting some smaller shrubs or perennials to fill it in.
Tips for Pruning Amur Maple Trees
You should also trim taller amur maple trees in winter and early spring, and it's best to start by removing the dead branches. When you start to remove those branches, you'll want to make sure you cut them off as close to the trunk as you can. You can cut other branches above leaf buds, and you should cut them at a slight angle. New ones will sprout beneath the buds and below the cuts.
You can use pruners, loppers or hand shears for maple amur bushes. You'll need a saw or pole pruner for higher branches and possibly a ladder; however, these are not exceptionally tall trees, so the ladder doesn't need to be too tall. In any case, if you're not comfortable using the tools or standing on a ladder, you could call a tree service company or landscaper in order to avoid potential injury.