Things You'll Need
Soil pH test kit

Lime

Compost

5-10-10 fertilizer

Seed potatoes

Knife

Cutting board

Trowel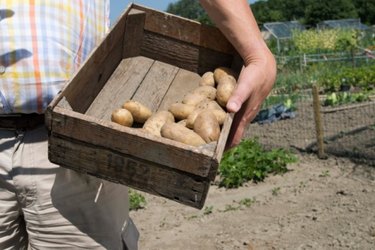 Virginia's growing season is long enough to grow a few crops of potatoes, including an early summer crop to eat as new potatoes and a later crop to store for the winter. Because potatoes grow best in cool temperatures between 55 and 65 degrees Fahrenheit, plant most potatoes in the spring before the weather warms up. Choose a few varieties of potatoes with different maturity times to spread out the harvest.
Step 1
Test the pH of a garden soil sample with a soil test kit. Most garden centers have test kits available and provide the results of the test. If needed, add lime to reduce the soil pH to about 6.2 if the variety of potatoes you plan to plant are resistant to scab disease. Reduce the pH to 5.2 if the potatoes are not resistant to scab disease.
Step 2
Work compost or other organic material into the soil to a depth of at least one foot to provide the potatoes with a healthy growing environment with loosely packed soil.
Step 3
Apply 1 pound of 5-10-10 fertilizer for every 20 feet of row. Rows should be between 2 and 3 feet wide.
Step 4
Wait until after March 15 in the eastern portion of Virginia, or as late as April 20 in the western mountainous area of Virginia. Choose an intermediate date if you are located somewhere in the middle.
Step 5
Cut seed potatoes into 1 1/2-inch cubes. Position the cuts so each cube of potato has at least one eye.
Step 6
Plant potato chunks about 3 to 5 inches deep with the cut side down. Leave 10 to 12 inches between plants in the row.
Step 7
Plant additional potatoes at later times if desired, but be sure to make the last planting by the end of June to ensure the potatoes have enough time to mature before cold weather arrives.
Tip
Every 10-foot row of potato plants will yield approximately 6 to 15 pounds of potatoes.