Things You'll Need
Hose

Gas tank

Diesel fuel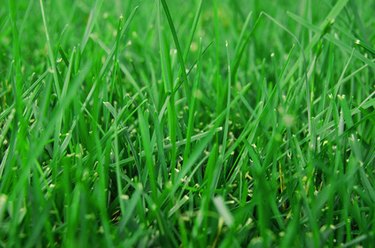 Riding lawn mowers can save a lot of time on cutting grass if you own several acres of property. The John Deere 455 lawn and garden tractor is a diesel-fueled mower. It operates like any other riding mower, and like other riding mowers, it can run into operating problems that need troubleshooting. There are several things you can do if your John Deere 455 won't operate.
Step 1
Make sure that the brake has been pushed down. The tractor will not start if the brake is not deployed. Press the brake down and start the engine. If it still won't operate, locate the power take-off (PTO) switch. This switch should be on left-hand side of dash. Pull the PTO knob until the PTO indicator light flashes on the dash. Deploy the brake and try the engine.
Step 2
Check for blown fuses. The fuses should be located on the right-hand side of the mower. Raise the hood and remove the panel. Pull the fuses from the sockets and inspect them. Take a look at the metal clip in the fuse window, which is located on the middle of the fuse. If this clip is broken, the fuse must be replaced.
Step 3
The fuel-shut off valve may also be closed. Raise the hood on the 455 tractor and take the left-side panel off. Locate the fuel shut-off valve. The valve will have a lever that can be turned clockwise and counterclockwise. To open the lever, turn it counterclockwise. Put the side panel back on, close the hood, and try starting the engine.
Step 4
If the mower will still not operate, check to make sure that the correct fuel has been added to the system. The John Deere 455 lawn and garden tractor has a diesel-fueled motor. If a different fuel was accidentally added, the mower will not run. Remove the fuel from the mower by siphoning the gas tank with a hose. Make sure all of the fuel has been taken out. Replace with diesel fuel.
Warning
Whenever you are troubleshooting a riding lawn mower, it is imperative that the engine is off. Do not open the hood or remove the side panels if the engine is on. Also, turn the engine off when fueling. It is best to fuel the mower in an outdoor space. Adding fuel in an enclosed area can be dangerous to your health.