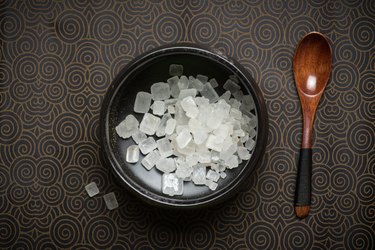 Do you have a big bag of yellow rock sugar and are unsure of how to break it down? It may be easier than you think. Yellow rock sugar is a form of sugar that is also known as Chinese rock sugar. This sugar is sold in large, solid chunks that are beautifully honey-colored. This type of sugar has a unique and distinct flavor that you can use in many dishes.
In Chinese cuisine, yellow or rock sugar is used in both savory and sweet dishes. You can find it used in braised dishes, giving the meat a glossy glaze. This type of sugar is made by cooling sugar syrup into giant, hard crystals. It can taste less sweet than traditional granulated sugar and is used in recipes worldwide. Breaking down yellow rock sugar can be challenging, but it's easy enough to do at home.
Breaking Down Yellow Rock Sugar
Like many things in life, there are different approaches to breaking down yellow rock sugar or Chinese rock sugar. The two most common ways to break down this sugar are using a hammer or a rolling pin.
For the first method, you'll need a hammer. Place the sugar on a hard surface and lightly tap it with the hammer. You want to break the sugar into smaller pieces, but you don't want to pulverize it. Once you have broken down the sugar into smaller pieces, you'll want to place it in a bag and then use a rolling pin to break it down further.
If you have a smaller bag of yellow rock sugar, you can use a rolling pin to start rather than using a hammer to break down the larger pieces. To use the rolling pin method, place the sugar in a bag and cover it with a towel. Then, firmly roll the rolling pin over the bag and the sugar will start to break down.
The process of making this type of rock sugar most likely came from the Tang Dynasty of China in the 7th century. However, you don't have to travel back in time to learn how to make a similarly formed rock sugar. Today, rock sugar can look and taste like many things, and the rock sugar you find in grocery stores is likely made using a nontraditional method.
To make your own rock sugar at home, you'll need 1 cup of water and 3 cups of granulated sugar. Using medium heat, you should bring the water to a boil. Add your sugar one cup at a time, stirring the mixture well after each cup. Dissolve the sugar in the boiling water, remove it from the heat source once it's completely dissolved and then allow the mixture to cool for 20 to 30 minutes. This mixture is now rock sugar, and you can break it up to use in recipes or eat it alone.
Possible Benefits of Yellow Rock Sugar
Rock sugar is ordinary in Asian cuisine and can even be used to sweeten tea. Are there benefits to using yellow rock sugar, and are there any alternatives to substitute for rock sugar? While some people may think that rock sugar is a healthier alternative to granulated white sugar, the jury is out on whether it makes a difference. The nutrition facts for 1 teaspoon (or 4 grams) of rock sugar indicate 25 calories and 6.5 grams of carbohydrates. Compared to regular granulated sugar, which has 15.4 calories and 4 grams of carbohydrates per serving size, it may seem that regular sugar is a better choice.
You can use substitutions if you're following a recipe that calls for rock sugar and you don't have any on hand. For instance, you can try regular white granulated sugar, but this sugar is often sweeter and easier to dissolve, so you may want to add much less than the recipe calls for.