Things You'll Need
Diaphragm, piston-driven mud pump

Two garden hoses

Shop vac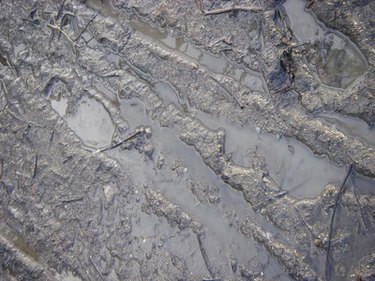 Mud is a tricky substance to remove or transplant. Oftentimes the only way to pump mud out of a source or from one source to another is to use a reciprocating, piston-driven or plunger-driven specialty mud pump. Such devices are costly and bulky, essentially making them unusable by anyone other than wealthy corporations or individuals. Fortunately, there are several alternatives for pumping mud which may seem counter-intuitive at first, but which are cost-effective for the average person.
With a Mud Pump
Step 1
Position the hose of your diaphragm mud pump in the mud source you wish to pump.
Step 3
Reposition the hose end of your mud pump in the mud source so that it continues to effectively remove the mud.
With a Siphoning System
Step 1
Run a standard garden hose into the mud source, filling it up with more water, thereby making the mud in the source thinner.
Step 2
Set up a water siphon with a second garden house running from the mud source to either a second source or whatever container you wish to fill with the watered-down mud. Fill the siphoning hose with water, then place the end of the hose into the watered-down mud. As the water filling the hose drains out of the end of the hose, it will create a suction, which will, in turn, act on the watered-down mud in the mud source, thereby draining it through the siphon hose.
Step 3
Turn off the fill hose so the siphoning house can slowly gain a drainage lead compared to the filling speed.
Step 4
Remove residual debris and mud with a shovel when the filling/siphoning cycle is complete.
With a Shop Vac
Step 1
Fill the mud source with additional water, watering down the mud.
Step 2
Place the end of the suction hose of your shop vac into the mud source and activate the shop vac.
Step 3
Suck out as much liquid mud as will fill the shop vac's receptacle or position the engine and drainage hole over a larger receptacle.
Tip
Only use a shop vac on a smaller mud source and be sure to either remove the vacuum filters prior to pumping the mud out or replace them upon pumping the mud out.
Keep the mud properly liquefied in both of the alternative processes or you will destroy or damage either a garden hose or a shop vac.