Things You'll Need
Warm, soapy water

Fire retardant spray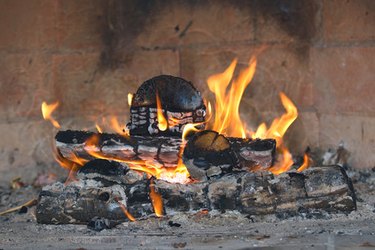 Older or well-worn tents may become damaged, or need a new lease on life. Fireproofing a canvas tent is a way of increasing the safety of your tent, if this happens. It involves spraying with a chemical that bonds to the fabric. If ignited, the chemical reacts by extinguishing the flames. It is important you choose a suitable type of fire-retardant chemical that is compatible with waterproofed and canvas fabric. Otherwise, the fireproofing will be ineffective.
Step 1
Wash your canvas tent with warm, soapy water. Remove excess debris so that it is clean. Fireproofing the tent when it is crusty with mud or cobwebs will reduce the effectiveness of the fire-retardant spray. Leave tent to dry.
Step 2
Buy a fire-retardant spray from a retailer, such as National Fireproofing or DTW Flames. Before buying the spray, check that the product complies with fire safety regulations from the American Society for Testing and Materials, National Fire Protection Association or Underwriters Laboratories. These institutions verify that the product meets safety guidelines.
Step 3
Read the information on the bottle to make sure that the product is suitable for a canvas tent. If you are unsure, look on the retailer's website, ask advise from a sales assistant at the store or call the manufacturer.
Step 4
Lay out the tent flat on the ground, in an outdoor space. Do this away from small children or pets as a safety precaution to prevent them from coming in contact with the spray, or inhaling the fumes.
Step 5
Apply the fireproofing spray to the tent by following the manufacturer's guidelines.
Step 6
Leave the spray to absorb into the material for the recommended amount of time. This varies depending on the product. However, usually the tent will need to be left for 24 hours, while the product is cured.
Warning
Wear safety goggles and gloves while using chemical sprays. This prevents skin irritation and spatters of spray entering, consequently damaging the eyes.