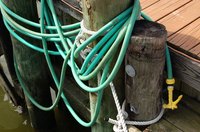 Hoses left unattended can become a twisted, tangled mess. Hose reels are one solution to keeping hoses neat and organized. While there are manufactured hose reels available on the market, a simple hose reel can be fabricated out of an old tire rim using a few simple components that can be found at a local hardware store. Recycling an old tire rim for a hose reel is an economical and environmental solution to storing hoses.
Things You'll Need
2 3-inch galvanized floor flanges, 4-hole
4 bolts, 3/8 inch
3-inch galvanized pipe, threaded at each end, 6 inches long
Used tire rim
Pipe wrench
Power drill
3/8 inch socket wrench
Place a three inch flange on the wall or part of a structure where the hose reel will be attached. Make a mark of screw hole locations.
Drill holes for 3/8 inch bolts using a power drill.
Attach the three inch flange. Mount a three-inch flange on the mounting surface using 3/8 inch bolts. Tighten the bolts with a power drill or with a 3/8 inch socket wrench.
Screw one end of the three-inch galvanized pipe into the attached flange. Tighten the pipe using a pipe wrench.
Place the used rim on the galvanized pipe with the pipe going through the hole in the center of the rim.
Attach the three-inch flange to the end of the galvanized pipe. The flange on this end of the pipe is to keep the rim from sliding off the pipe.