Things You'll Need
Board games

Name tags

Party food

Pens and paper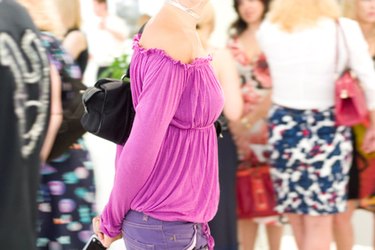 Organizing a singles event takes a bit more strategy than most get-togethers. The goal of such an event is to help people meet someone new, and to give everyone a chance to talk and connect meaningfully with other singles. Singles events should include interactive activities that facilitate conversation, as well as a balanced crowd of men and women.
Step 1
Plan for the event to occur in the middle of the week. This way, if some singles connect at your party, they will have the weekend free to plan a date.
Step 2
Invite an equal number of single men and women. Whether you send invitations online or on paper, encourage everyone to R.S.V.P. Invite additional people as necessary.
Step 3
Play upbeat music at a low volume to keep spirits up without drowning out conversation.
Step 4
Decorate the party venue with lots of conversation pieces, e.g. artwork, fun toys and picture books.
Step 5
Strategically lay out paper and pens around the party room so that singles will be able to exchange contact information.
Step 6
Write name tags for each of your guests and have them wear the tags during the party.
Step 7
Greet each guest as he/she arrives, and introduce him/her to a few people you think he/she would like.
Step 8
Set up a few games that facilitate intellectual and/or physical interaction, such as Risk, Twister, Monopoly and Scrabble. Avoid video games, since players will stare at a screen rather than look at other players.
Step 9
Set up some interactive food, such as make-your-own tacos, sundaes, and so on. In addition, place trays of food all around the room. This will provide conversation fodder for your guests.