Things You'll Need
Crackling paint product

Paint

Large paint brush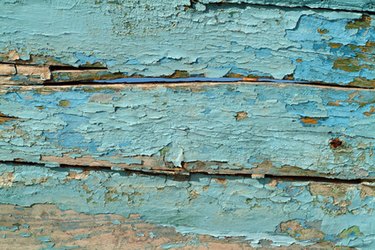 The key to making newly painted wood look antique is to make it look as if it has normal wear from years of use. This is easily achieved with a crackle glaze that is applied directly over the base coat. A top coat of paint, which is applied over the crackle glaze, will reveal the base coat in the cracks that form. This is what creates a weathered look over the surface of the painted wood piece.
Step 1
Apply the crackle product evenly and in one direction. For bigger cracks, apply it in a thick coat; for smaller cracks apply the product in a thin layer. Be sure the base coat is either lighter or darker in color than the top coat, as the base coat will seen in the cracks of the finish. Greater contrast between the base and top coats will create a more noticeable crackle finish. For a subtler weathered look, you can choose base and top coats in the same color family, but remember that you want the base coat to be at least a few shades darker or lighter than the top coat.
Step 2
Allow to sit for up to an hour, depending on the product instructions.
Step 3
Apply the paint quickly and thoroughly with a large brush, perpendicular to the direction in which the crackle finish was brushed. Remember, this will be your top coat and you do not want it to be the same color as the base coat. As stated in step 1, if your base coat is a dark color, you will want a lighter-colored top coat; if the base coat is a light color, choose a darker-colored top coat.
Step 4
Watch the crackle finish appear. The crackle finish creates cracks throughout the surface of the top paint and allows the base coat to be seen through those cracks. The finish should be visible as you finish painting the top coat or shortly thereafter.
Step 5
Tip
If you wish to preserve the look of your wood piece, you can seal it with a coat or two of polyurethane. Let it dry thoroughly before applying a second coat.
Another way to achieve the antique look is to rub sandpaper on the areas that receive a lot of wear and tear, for example, corners and edges.
You can also use dark stain in crevices, grooves or ridges to make a newly painted wood piece look old.