Things You'll Need
Wire strippers

Screwdrivers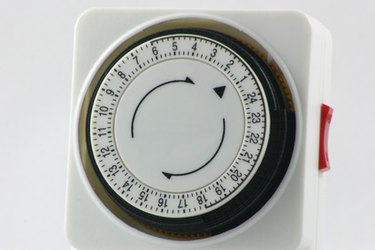 The Intermatic T101R mechanical timer is an easy-to-use device for automatically controlling lights, pool pumps or any other load that you want to switch on and off at set times each day. The T101R can be set to switch a load on and off up to 12 times a day, using color-coded pegs inserted into the timer wheel. Once the timer is set, it acts as an automatic switch, turning your devices on and off at the desired interval.
Step 1
Remove one of the knockouts from the bottom of the T101R housing. Insert the 120-volt supply line through the knockout hole. Insert the line from the load that is to be controlled by the timer through the knockout hole.
Step 2
Cut the ground wires from both lines to the appropriate length and insert them under the ground terminal screw. Tighten the ground terminal screw securely with a flat-head screwdriver.
Step 3
Strip 1/2-inch of insulation from the two black and two white wires.
Step 4
Insert both white wires under terminal "A" and tighten the terminal screw securely, using a flat-head screwdriver. Insert the black wire from the 120-volt supply line under terminal "1" and tighten the terminal screw. Insert the remaining black wire under terminal "2" and tighten securely. Set the current time and the desired on and off times on the timer wheel, and close the cover.
Step 5
Energize the timer by turning on the 120-volt supply line breaker. Check the timer for proper operation. If it doesn't operate correctly, turn off the breaker and recheck all connections.
Warning
Household voltage can present a significant risk. Installation of the supply line, timer and load circuit should be performed only by a qualified electrician.