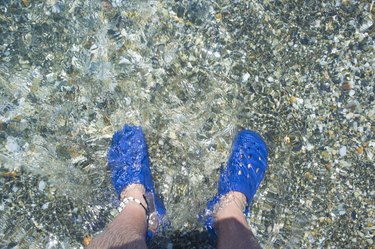 It seems that Crocs have been around forever, but these shoes are not that old. They were invented in 2002 by three college friends who initially designed the footwear based on boating clogs they saw in the Caribbean. Now, the company produces clogs, sandals, boots, flip-flops, flats, wedges and even fluffy crocs with comfy linings. Crocs are known for being easy to clean, but how can you wash fleece-lined Crocs with the material inside?
Fluffy Crocs are a newer, softer creation that's only been around since 2021. These fluffy Crocs are part of the Fuzz Collection, which costs around $60 to $70 for adult clog styles and more for boots. They are designed for cold weather, and it seems as though the Classic Lined Clog is one of the best-sellers. They come in 14 colors, in men's sizes 4 to 13 and women's sizes 6 to 12 (whole sizes only).
You might compare this new line of footwear to Uggs and other footwear (and socks) that are lined with fleece on the inside. Instead of sheepskin, Crocs are made with Croslite, a foam construction that provides firm arch support. They also offer one style, the Classic Fur Sure, which is lined with sherpa on the inside and outside and features three fluffy pompoms on the top. Crocs also makes other styles with leather, suede, wool and canvas uppers.
There are two ways to wash regular Crocs: light (hand washing) and deep (washing machine). To hand wash them, run the shoes under cool running water until they are thoroughly wet. Add a drop of laundry detergent to a soft scrub brush, lather it up and scrub gently. Rinse again in cool, clean water and let the shoes air dry in a cool area.
For deep cleaning, put your washing machine on its gentle cycle and add liquid laundry detergent. Add the Crocs and let the shoes soak for five minutes or so. You'll want to have clothing or towels in there so the shoes won't bang around. Run the machine as usual and then remove the shoes and let them air dry. You'll need to be more careful with fluffy Crocs, though. The linings are not removable, so the manufacturer recommends only cleaning gently with warm water and mild soap.
If you own a pair of Crocs with leather uppers, clean them carefully with a slightly damp rag and a leather cream. For Crocs made from napa leather, you can use a suede cleaner for best results. Never use harsh chemicals, like alcohol, and never put Crocs in the dryer.
Odor can be a problem with any shoe, even after being washed. Thankfully, eliminating the smell is an easy fix, and all you will need is baking soda and a gallon-size zip-top plastic bag. Pour in enough baking soda to lightly cover the bottom of the bag when it is laying flat, slide in the shoes on top and seal the bag shut.
In a cool, dark location, let the shoes stay in the bag for at least 24 hours. The next day, carefully pull out the Crocs and discard all the used baking soda. If they don't smell fresh enough, repeat the process. If you see baking soda on the shoes, tap them over a trashcan and clean them with mild soap and water.