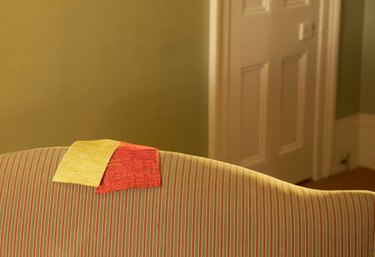 There is nothing quite like a new piece of furniture to liven up a tired decor or color scheme. Even recovering a valued item like a Bassett furniture sofa, love seat or arm chair can make a room appear reinvented and updated. Ordering fabric from Bassett is easy to do when you purchase a new piece of furniture from one of Bassett's collections. Older, existing pieces can be re-upholstered by ordering the material yourself with the assistance of a local upholstery company.
Step 1
Order from Bassett online. This is a great option for a new piece of furniture. Bassett allows a customer to order from its selection of fabrics and finishes to create distinctive furniture. Visit Bassett online and use the upholstery application to view your choices.
Step 2
Visit a Bassett retail store and order material with the assistance of a sales person. This option allows the customer to touch fabric samples and view them in various settings and light. Authorized Bassett retailers can be found through the store locator tool at the Bassett Furniture website or by calling customer service at 877-525-7070, Monday through Friday from 10 a.m. to 6 p.m. EST.
Step 3
Purchase the material yourself. This is a great option when re-upholstering Bassett furniture. Provide an upholstery company with the dimensions of the Bassett furniture and the specifications of the chosen fabric and ask them for an estimate to upholster the furniture. Make sure the amount of fabric needed is listed in the estimate and use this figure to order the material. Use the dimensions that Bassett provides in its catalog or ask the upholsterer to measure the furniture for you. Fabric specifications should include the width and repeat of the fabric.
Tip
Bassett fabric samples are only available through retail stores — viewing the fabrics online may not provide an accurate representation of the material.
Some fabric showrooms may not sell directly to the public and will require a licensed Interior Designer to make the purchase.
Many upholstery companies will make house calls to measure existing furniture and make estimates free of charge.