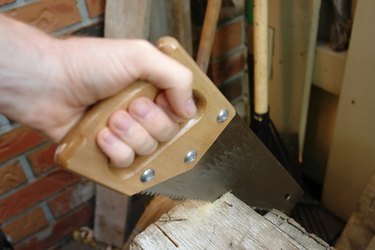 The Black and Decker Workmate 400 is a portable bench that folds easily and goes wherever it's needed. It holds up to 500 pounds, boasts a self-contained vise system, and tilts to clamp projects both vertically and horizontally. In addition, holes in the front and rear jaws of the vise allow tools to be mounted to the worktop. The Workmate can also be used at two heights thanks to folding legs that convert it from a workbench to a sawhorse.
Step 1
Remove the parts from the box. The body of the bench is partially assembled.
Step 2
Pull the bottom of the legs away from the body. The legs swing on hinges. Open until the legs lock into place. Turn the workbench over so that the feet sit on the floor.
Step 3
Press the release latches on both sides of the top. Place your foot on the lower step and pull the top upward until it locks into place.
Step 4
Slide the vise guides onto the long vise screws. The vise guides have a round port that fits the vise screws and a female threaded block at the top.
Step 5
Slide the vise screws into the slotted vise frame on either side of the top. The screws fit so that the vise guides are aligned in the slots in the top of the frame. The unthreaded end of the vise screw must protrude from the end. You will notice a small hole through the unthreaded end of the vise screw.
Step 6
Push the handle into the larger hole of the crank. Slide the smaller hole onto the unthreaded end of the vise screw. Insert the vise pin through the crank and the hole of the unthreaded end of the vise screw. This holds the crank in place. Use a hammer to make sure that the pin is flush with the handle.
Step 7
Press the top blocks into the corresponding holes in the front jaw of the vise. The front jaw is the thinner piece with the Black and Decker Logo printed on it.
Step 8
Align the hole in the top block with the vise guide. Screw a bolt through the vise jaw, top block and into the vise guide on both sides of the work bench.
Step 9
Place the last two top blocks on the back vise jaw and align the block with the pre-drilled holes on the workbench frame. Insert and tighten these bolts.
Tip
To store the workbench, first fold the legs toward the center of the work bench. Place one foot on the foot board of the bench. Grasp the top of the work bench on either side and grasp the latch handles with your fingers. Press the latch handles while pushing the top of the workbench down.