Things You'll Need
Acrylic yarn

Laundry detergent

Sink or tub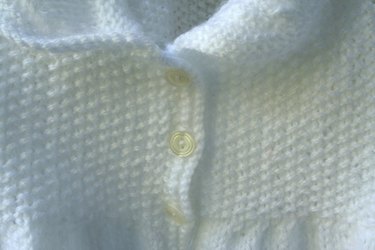 Acrylic yarn is made from a synthetic, hypoallergenic fiber that is inexpensive and comes in a variety of colors, weights and sizes. It will not shrink or felt when washed, unlike natural fibers such as wool, and does not stain. It has good elasticity, resists mildew, and won't attract moths. In addition, knitters will find acrylic yarn particularly easy to work with since it does not need to be blocked.
Step 1
Read the label on the ball band. Determine if your yarn is 100% acrylic or a wool blend. If the yarn contains wool or another type of natural fiber, read the ball band for washing directions. Some wool blends are machine washable, while others require you to hand wash them in cold water.
Step 2
Prepare your yarn for washing. If you need to wash yarn that has not yet been knitted or crocheted, do not try to wash the entire ball of yarn. Instead, wind the yarn around the back of a chair or around a laundry basket to make a skein of yarn. Tie the skein in several places to keep the yarn from tangling. If washing fabric made from acrylic yarn, remove any stitch markers or safety pins, zip up any zippers and close any buttons.
Step 3
Fill the sink or bathtub with warm water and add a small amount of laundry detergent. Add the acrylic hank or fabric to the warm water. Allow it to soak for a few minutes, then drain the water out of the sink or tub and gently squeeze the excess water out of the yarn. Refill your sink or tub with fresh warm water and soak the yarn in it for four minutes to rinse out the laundry detergent. Drain the rinse water and gently squeeze the excess water out of the yarn. Do not wring the yarn as this may cause it to stretch.
Step 4
Roll the yarn into a towel and press down firmly on the towel to remove as much water as possible. A skein of yarn or a small, lightweight item made from acrylic yarn may be hung to dry. You should dry larger items, like sweaters or blankets, on a flat surface to to prevent stretching.
Tip
If your yarn label indicates the yarn is machine washable, and you are not attempting to wash a hank of yarn, put the acrylic item in the washing machine on the gentle cycle, using cold water.
Consult the ball band for drying instructions.
To keep from stretching or distorting the stitches, avoid hanging knits on hangers. Fold them instead.
Warning
Never use a hot iron on acrylic yarn, or it will stretch out of proportion. Only use a warm iron to remove wrinkles.