Things You'll Need
Bucket

Soapy water

Clean cloth

Clean towel

Cardboard pieces

Ventilation mask

Spray primer

Spray paint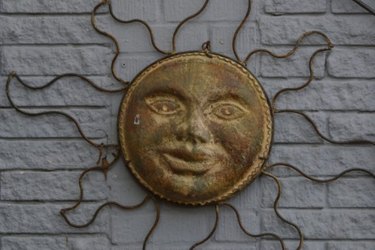 Metal wall decor can add a special touch to any room, but the colors do not always match your existing decorating scheme. The easiest way to paint your metal wall art is with spray paint. Spray paint will coat the piece in an even layer of color and prevent permanent brush strokes. Spray paint is an inexpensive way to customize your wall accents.
Step 1
Fill a bucket with warm, soapy water. Dip a clean cloth in the water and wipe down the piece of art to remove any accumulated dust.
Step 2
Rinse the cloth and wipe the piece of art again to rinse it off. Pat it dry with a clean towel.
Step 3
Move the decor outside or into a well-ventilated room. Lay it on top of a piece of cardboard to protect the flooring. Put on a ventilation mask so you don't breath in the fumes from the spray paint.
Step 4
Spray the entire piece of decor with an even coat of spray primer. Follow the package directions for the recommended drying time.
Step 5
Spray the entire piece of decor with an even layer of spray paint in your choice of color. Let it dry according to package directions. Spray on another layer of paint if you want a richer color.