Things You'll Need
Toothpicks

Wood glue

Clay

Scissors

Acrylic paint

Paper

Pencil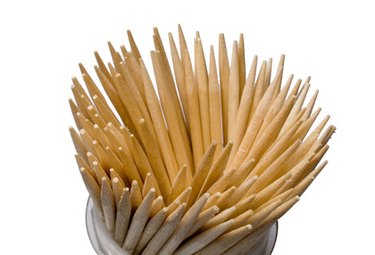 Although you may be acquainted with toothpicks as objects to clean your teeth or to skewer small pieces of food, these tiny wood slivers can also be used in craft projects. Whether you are making a miniature city or sculpture, or holiday decorations or dolls, toothpicks provide an inexpensive outlet for creativity and a means to teach children about architecture. Always supervise young children as they work on the project to avoid any possible injuries.
Step 1
Sketch out your ideas for your toothpick creation on a piece of paper. Consider how many toothpicks you have, and use your sketch to determine how many you will need. If you are creating a toothpick house, will you create just the basic framework of the house, or will you also incorporate siding onto the frame of the house? Address these concerns in your sketch.
Step 2
Arrange toothpicks according to your sketch to get an idea of how the final product may look, if possible. Place a drop of wood glue onto the end of the first toothpick, and press it against the end of the next toothpick. Repeat this process as you create the shape of your project. Alternatively, you could insert the end of a toothpick into a small glob of clay. Insert the end of another toothpick into the other side of that clay. Continue this process in order to assemble your creation.
Step 3
Use scissors to cut toothpicks into smaller pieces, if necessary. Breaking toothpicks with your hands could cause them to splinter, leading to a weaker craft project over time.
Step 4
Allow the wood glue at least a few minutes to dry. Gently apply acrylic paint, if desired, to your project. Be careful as you paint it to avoid causing damage. Allow the paint to dry for at least 10 minutes, and then display your project.
Tip
If you have small children, you may want to substitute pieces of marshmallow in place of using wood glue or clay.
If a structure collapses, it may be because it needs more vertical supports. Stand a toothpick upright and glue it to pieces of your structure that are collapsing.
Warning
Children should be supervised on this project. If a child eats any part of this project, you should call 1-800-222-1222 immediately to reach your local Poison Control Center. If you suspect that a pet has eaten it, take the animal to a veterinarian right away.