If your travertine sealer is streaky or scratched, removal can improve the look of the travertine. It is also necessary to remove the sealer if you wish to attempt to re-coat the tiles. Although removal is not difficult, it can be a time-consuming process. Depending on the type of sealer and how many coatings were applied, it may take several attempts to fully remove.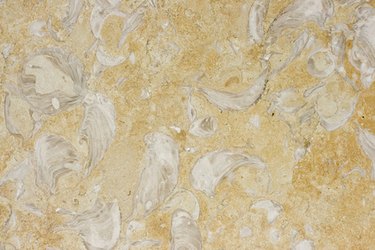 Things You'll Need
Stone Cleaning Product

Mop

Soft Cloth

Scrubbing Brush

Acetone
Step 1
Pour a small amount of acetone directly onto the travertine. If removing sealer from a large surface area, such as a floor, start in the back of the room, breaking the room up into small parts.
Step 2
Scrub the travertine tile with a scrubbing brush, to work the acetone into the tile and loosen the sealer.
Step 3
Dampen a soft cloth. Wipe away the acetone and sealer residue. Repeat the process as needed, until all of the sealer is removed.
Step 4
Clean the travertine tile once the sealer is removed from the entire surface. Spray a stone cleaning product on the travertine and mop or wipe clean.