Things You'll Need
rough plumbing fittings

Backing board

Hanging brackets

Toto urinal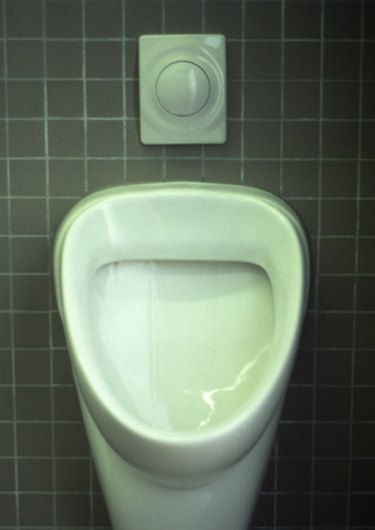 Urinals -- plumbing fixtures common in men's public restrooms -- require a few steps to properly install. Preparation for installation starts when the plumbing is roughed in and before the drywall is applied. Here are some tips to install Toto's Lloyd urinal and electrical flush valve. And if you want to coordinate accessories, the Lloyd urinal comes with a matching toilet, air bath, pedestal and console lavatories,
Step 1
Rough in the plumbing. Toto urinals require a 5/8-inch water inlet and a 2-inch outlet. The outlet is placed 19 1/2 inches above floor level with the water input 48 1/2 inches above the floor and directly above the outlet. Rough in the plumbing before drywall or another wall covering is installed.
Step 2
Place a backing board -- a piece of wood run latterly between wall studs -- centered at 37 3/4 inches above the floor level. The backing board will be between the inlet and outlet.
Step 3
Attach the hanging brackets of the Toto urinal to the backing board through the drywall. Use 2 1/2-inch drywall screws. Place the brackets 10 1/8 inches apart centered on line between the inlet and outlet.
Step 4
Hang the urinal on the brackets while connecting the outlet from the urinal to the stub of the outlet plumbing.
Step 5
Connect the urinal flush control to the input stub with a gasket kit.
Step 6
Connect the flush control to the top of the urinal.
Tip
Various models of Toto urinals have different shapes and configurations. While the rough plumbing and backing board placement should be consistent, hanging brackets may differ in location.