Things You'll Need
Word processing or desktop publishing program

Printer

Card stock or heavy paper

Scissors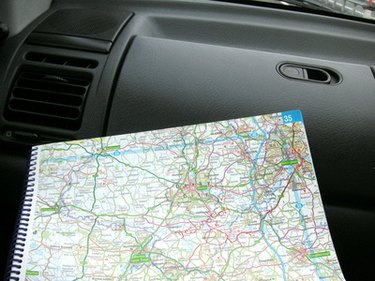 When you send out your wedding invitations, consider enclosing direction cards. These are especially helpful for out-of-town guests or if you are holding the ceremony or reception at an unfamiliar location. One way to cut costs is by creating and printing the direction cards yourself. Using your favorite word processing or desktop publishing program makes it simple.
Step 1
Create a document or publication that is postcard-size. Make sure the page is in "Portrait" orientation so that two cards fit on one page. For example, if you are using Microsoft Word 2007 or 2010, go to the "Mailings" tab, click "Labels" > "Options" to choose a postcard size. In OpenOffice Writer, draw two 4-by-6-inch text boxes onto the page.
Step 2
Provide the address to the location at the top of the card. Type directions from two primary locations, such as the airport and a major intersection on the other side of town. Use bullet points and type brief but clear directions.
Step 3
Find a map general location from your favorite Web mapping service, such as Mapquest or Google Maps. In Windows Vista or Windows 7, use the "Snipping Tool" to capture the map image. Click "Start" and type "Snip" into the Start Search box. Select "Snipping Tool," click "New" and choose "Rectangular Snip." Snip the map image and paste it onto the card. If you do not have this tool, use the program's drawing tools to draw a basic map.
Step 4
Select all the text and images on the card using your mouse. Press "Ctrl + C" to copy it. Move your mouse to the second card or text box. Press "Ctrl + V" to paste the information so that you have two identical cards per page.
Step 5
Print the direction cards onto card stock or heavy paper. Cut them apart. Insert one direction card into each invitation before mailing them.
Tip
Adjust the postcard or text box size to fit into your envelopes, if necessary.