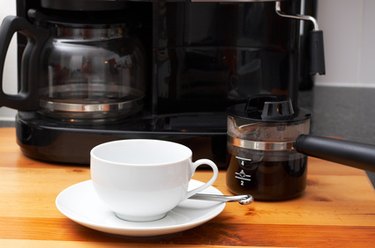 Reusable coffee filters, whether metal, plastic or cloth, are considerably more economical and sustainable than disposable filters. The only minor drawback is that they require regular cleaning as well as occasional deep cleaning to remove the inevitable buildup of coffee bean oils. These oils, which are naturally present in coffee beans, have a tendency to get trapped and gradually accumulate in filters. Without a periodic deep cleaning to remove the oils, they turn rancid and impart an unpleasant, bitter flavor to your brew along with an oily film on top. Fortunately, the best methods for regular cleaning and deep cleaning of all types of coffee filters are straightforward, and they don't require any special supplies.
How to Clean a Coffee Filter
The best way to keep coffee bean oil and tiny particles of coffee grounds from building up in your reusable coffee filter is to wash it regularly. At the very least, thoroughly rinse the filter under running water immediately after every use using a spray nozzle (if you have one) to remove all traces of coffee from the crevices. Make sure the filter is completely dry before putting it back into the coffee maker.
After several uses or every single use if you prefer, wash your reusable coffee filter with mild dish soap. Use a dish brush or old toothbrush along with hot, soapy water to thoroughly scrub the filter. Rinse it under plain water to remove any traces of soap and make sure it's fully dry before putting the filter back in the machine. Alternatively, wash the filter in the top rack of the dishwasher. Most reusable coffee filters are dishwasher-safe in the top rack, but it's always a good idea to look up the manufacturer's recommendations.
How to Deep Clean a Coffee Filter
Even with regular cleaning, coffee bean oils can build up in a filter over time and can be difficult to remove with just soap and water. Two inexpensive household cleaning products work really well for getting this set-in grime out of coffee filters: white vinegar and baking soda. With the vinegar method, soak the filter for at least a few hours and up to overnight in a 1:2 solution of white vinegar and water and then rinse and dry. With the baking soda method, soak the filter in hot, soapy water for a few minutes and then sprinkle a fine layer of baking soda over all its surfaces. Scrub the baking powder into the filter with a dish brush or old toothbrush and then rinse and dry the filter.
If you have a gold-tone reusable coffee filter, avoid the vinegar method and opt for the baking soda method instead. The acidity of vinegar can damage the gold-tone finish of these types of filters.
Cleaning Cotton Coffee Filters
Reusable cotton cloth coffee filters, also known as coffee socks, are a good alternative to disposable paper filters. To keep these types of filters clean and free of coffee oils, you must thoroughly rinse them after every use until the water runs clear. Squeeze out excess water and hang or lay the filter flat to air dry completely before reusing. Every few uses, wash the filter with warm water and a touch of mild dish soap or mild laundry detergent. Rinse thoroughly under running water, squeeze out the excess and let the filter dry.
Every week or two, boil cotton coffee filters in plain water for five to 10 minutes. This process removes any trapped coffee oils and sanitizes the filters.
Remember to Clean the Machine
Coffee filters aren't the only cause of unpleasant-tasting coffee or an oily film on top of coffee. Coffee oils, other particles and minerals from your water also build up elsewhere in a coffee machine or other device, so you need to thoroughly wash all removable parts on a regular basis. Also follow the manufacturer's instructions for periodic cleaning and descaling of the machine.