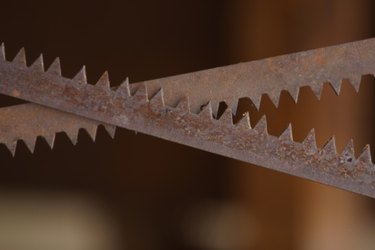 Bosch is a power tool manufacturer that offers a variety of woodworking tools, including drills, sanders and saws. Bosch offers a line of jigsaws that utilize SDS jigsaw blades, a T-shank style of jigsaw blade that can be installed in the jigsaw or removed with the flick of a lever. This eliminates the need for an Allen wrench or other tools when changing blades. As a result, you can install or remove Bosch SDS jigsaw blades in a matter of seconds.
Step 1
Disconnect the jigsaw from the power outlet. If your Bosch jigsaw is a cordless model, remove the battery from the saw.
Step 2
Set the blade orbit selector to position III, which is as far back as possible.
Step 3
Turn the jigsaw upside down. Locate the black rotary ejector lever. Push it until it locks in the open position. The blade should pop out of the plunger. Set the old blade aside.
Step 4
Align the new blade so that the T-shank is inserted into the plunger, and the flat back-side of the jigsaw blade is against the roller. Push the blade into the plunger until the ejector lever moves into locked position. The blade should be secure in the plunger.
Step 5
Plug in the saw (or re-insert the battery) and make a test cut with the jigsaw.
Warning
When working with power tools, always wear appropriate safety equipment, including safety glasses.