Things You'll Need
Articulating ladder

29 1/2 by 74-inch stackable scaffold set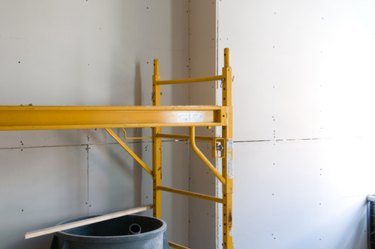 During the course of certain construction projects, completion of the work requires a raised working platform. This can be challenging when the scaffold or ladder must be placed on uneven, sloped or stepped surfaces. An adjustable ladder, which allows the legs to change heights, is one method to use when working on stairs. Building a level platform is commonly used to provide a work surface. This platform allows for easy removal and placement anywhere on the stairway.
Articulating ladder
Step 1
Open the ladder at the main hinge and stand it upright at the bottom of the stairs, resting on the floor.
Step 2
Raise the ladder legs on the side closest to the stairway by unlocking the latches on each side of the ladder. Secure the latches into the highest hole.
Step 3
Move the ladder closest to the bottom of the staircase with the raised side resting on the stair tread.
Step 4
Unlock the latches and adjust the ladder until it is in a normal upright position and re-lock the ladder latches.
Step 5
Place the ladder feet tight against the riser while they rest on the stair tread.
Scaffolding
Step 1
Assemble the scaffold braces to the scaffold frames by placing the brace end onto the frame tube and locking the safety latches.
Step 2
Place one of the scaffold frame's feet on the floor, closest to the first step and the other end on the stair tread.
Step 3
Unlock the safety latches on the scaffold section which rests on the stair tread.
Step 4
Adjust the scaffold brackets until the platform is level and lock the safety latches.
Step 5
Stack additional scaffold assemblies if necessary to achieve the desired height.
Tip
Assistance to assemble and position the scaffolding is needed for this task. Do not attempt to perform this alone.
Warning
Always follow the safety precaution labels and never modify or force scaffolding or ladder parts together.