Things You'll Need
Plastic beads

Large cooking pot

Strainer

Measuring cup

Measuring spoons

Paper towel

Vinegar

Powdered dye

Whisk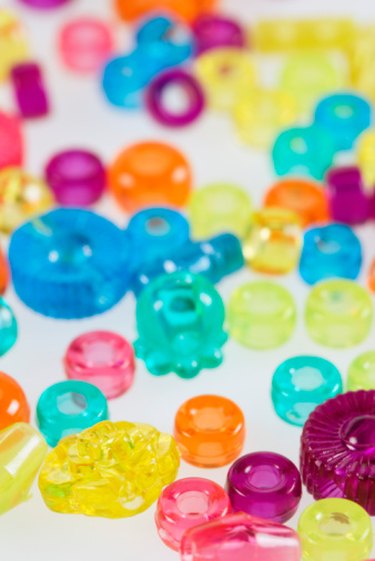 Colored plastic beads can be used in crafts, making jewelry, or as decorations on various projects. Dying plastic beads will come in handy if you have multiple beads in one color, but need a different color, or if you have clear or white beads that you would like to experiment with. By using household appliances and dye, you can color your beads whatever color you need.
Step 1
Attach the strainer to the large cooking put and fill the pot with water. The water should go past the bottom of the strainer. Make sure to measure how much water you place in the pot.
Step 2
Place the pot on a stove, and heat the pot at a medium-high level until the water is boiling.
Step 3
Remove the strainer and add 1/2 tbsp. of dye and 1/2 tbsp. of vinegar for every 5 cups of water in the pot. Mix the ingredients in the pot with a whisk. Stir for about one minute.
Step 4
Replace the strainer in the pot, and place the plastic beads in the strainer. Leave the beads in the strainer and check them frequently until they are the color you want them to be. Leaving the beads in the dye longer will make them a darker shade.
Step 5
Remove the strainer from the pot when you are happy with the color, and rinse them in the sink under lukewarm water.
Step 6
Dump the beads on a paper towel and allow them to dry.
Tip
Put more dye in the mixture for a darker shade, and less for a lighter shade.
Depending on the color of the original beads, the color of the new beads may be slightly altered.