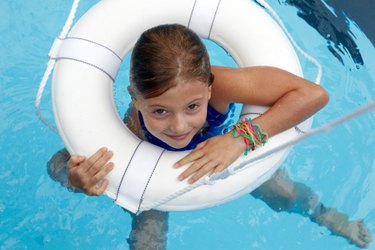 Intex manufactures above ground pools called Easy Set Pools, in several sizes. A vacuum cleans the bottom of the pool by suctioning up dirt particles and debris. The debris catches in a filter net on the bottom of the cleaner. A pool vacuum connects to the filter pump to circulate the water through the cleaner in a closed system without air.
Step 1
Unplug the filter pump from the electrical outlet.
Step 2
Grasp the upper hose connection from inside the pool with one hand. Turn it counter-clockwise to unscrew and remove it. The threaded strainer connector is visible.
Step 3
Screw the hose adapter onto the hose marked "A" in a clockwise direction. Screw the adapter onto the upper hose connection at the top inside of the pool.
Step 4
Screw each section of hose together. For pools above eighteen feet across, attach the hoses in this order: "B", "C", "B", "C", "B", "and D." Attach the hoses for pools that are eighteen feet across and smaller, in this order: "B", "C", "B", and "D." Each length of hose has the letters stamped on them.
Step 5
Slide the hose clamp on the free end of hose "D." Push the free end of hose "D" onto the top vacuum connection. Tighten the hose clamp with a screwdriver.
Step 6
Place the cleaner in the water with the hose assembly under the water level. This action will fill the hose with water and remove air from the hose. Screw the loose end of hose "B' to hose "A" clockwise on the inside upper connection in the pool.
Step 7
Turn the top air release valve on the vacuum 1 to 2 revolutions counterclockwise. This action fills the cleaner with water. When water backflows out of the vacuum, tighten the air release valve back in a clockwise direction.
Step 8
Plug the filter pump into an electrical outlet for operation of the vacuum. Hold the automatic vacuum upside down under the water level and then release it. The air in the hose and cleaner will spray out and the cleaner will sink to the bottom of the pool.
Warning
Remove the vacuum from the pool before people enter the pool. The vacuum moves on the pool floor, bumps into objects to turn and can bump into feet of occupants.