Things You'll Need
Tape measure

Patterned fabric

Scissors

Stretchy fabric

Pins

Sewing machine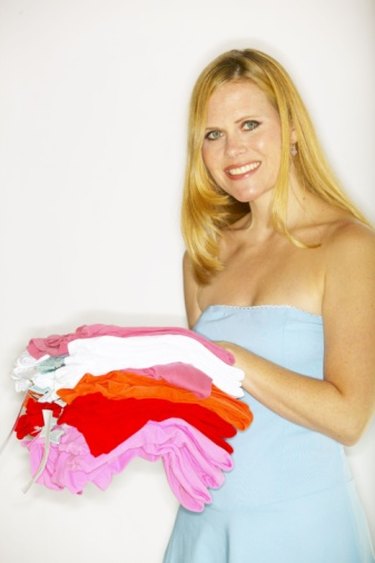 When the hot weather rolls in, wearing the right kind of clothes is key to keeping comfortable and cool. One piece of clothing that you should keep in your closet is a simple strapless top. You can sew your own strapless top with the exact colors and patterns that you want to have a breezy shirt to match any skirt, shorts or pants in your wardrobe.
Step 1
Wrap a tape measure around your bust, just under your armpits. Hold the ends together so the tape is fitted closely around your body. This is your bust measurement.
Step 2
Hold the tape vertically with one end at your bust line with the rest of the tape trailing down the front of your body. Look at the number where you want the shirt to end to find the length measurement.
Step 3
Make the front and back panels by cutting out the patterned fabric using scissors. The pieces should be 10 inches wide and 1 inch longer than the length you want the shirt to be.
Step 4
Subtract 20 inches from your bust measurement and divide it by two to find the side panel width measurement. For example, if your bust is 36 inches subtract 20 inches to get 16 inches and divide to get 8 inches for each side panel width.
Step 5
Add 1 inch to the side panel width measurement and cut the stretchy fabric panels to that width. The length of these panels should also be 1 inch longer than you want the shirt to be.
Step 6
Lay out the fabric panels in order of the front panel, one side panel, the back panel and the other side panel. Pin the vertical edges of the panels together with the right sides of the panels facing each other.
Step 7
Sew the edges of the panels together using a sewing machine to make a 1/2-inch seam on each edge. You should end up with a long row of panels.
Step 8
Fold the top and bottom horizontal edges inward by 1/2 inch to make seams. The wrong sides of the fabric panels should be facing.
Step 9
Sew the folded edges of fabric down to make the hems. Sew the far vertical edges of the fabric closed to make a tube shape.
Step 10
Turn the fabric right side out and slip the top over your head to put it on.
Tip
Use different colors for the panels to make a more interesting top.
Warning
Do not make the top too short or it may ride up or fall down while you're wearing it.