Things You'll Need
Phillips-head screwdriver

Allen wrench

Drill with Philips bit insert

Two one-inch wood screws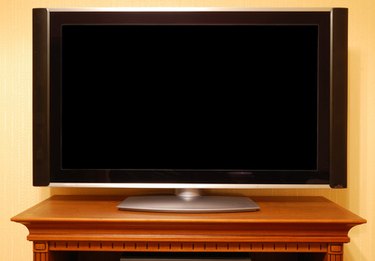 While the new line of digital televisions improves a family's home theater experience, tipping dangers threaten to harm children or pets. Children and pets playing too close to the flat panel may unwittingly bump the television and bring it down because of its unusual top heaviness. These units generally mount to the wall, but when that is not feasible, people opt for the tabletop models with the small-footed base. Because the television is almost always three to four times larger than the base, it's a good idea to anchor the table-top model securely to prevent tipping accidents.
Step 1
Set the flat panel on the tabletop. Place the unit as far back as it will go, provided that 100 percent of the TV's mounting foot is on the tabletop.
Step 2
Locate two parallel threaded mounting inserts on the rear of the flat panel. Place a supplied mounting screw through the plastic bracket at the end of the strap and into the threaded insert. Tighten the screws into the inserts with the Philips screwdriver or Allen wrench, depending upon the type of screws used. Repeat for the other strap.
Step 3
Place the other end of the strap and plastic bracket against the back of the table. Drill in a one inch wood screw through each bracket.
Step 4
Adjust the straps to make them tight, but not so tight that the TV begins to tilt backwards.