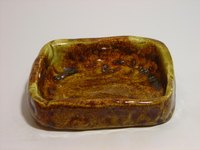 Why buy an ashtray when you can make your own? With a little bit of creativity and some common household items, anyone can easily create a unique clay ashtray. By creating your own ashtray, you are in control of the shape, size and color. You can make it a statement piece or a simple dish to hide away in a corner. A homemade ashtray also makes an excellent and inexpensive gift idea for the cigarette or cigar aficionado.
Things You'll Need
1 cup flour
1/2 cup salt
1/2 cup water
Mixing bowl
Non-stick cookie sheet
Oven
Paint
Clear varnish
Prepare and Mold the Clay
Place flour and salt in a mixing bowl. Sift together.
Pour half of the water into the mixing bowl and mix with the dry ingredients.
Knead the mixture with your hands, slowly adding the remaining water until a soft, smooth dough form.
Remove the dough from the mixing bowl and use your hands to mold it into the ashtray shape you want.
Baking and Finishing Touches
Preheat your oven to 275 degrees Fahrenheit.
Place clay ashtray in the center of a non-stick cookie sheet. If your cookie sheet is not non-stick, cover it with aluminum foil.
Place the ash tray in the oven and bake until it's hard and golden brown (approximately one hour).
Remove the ashtray from the cookie sheet and allow it to cool.
Once the ashtray has cooled, paint it. When the paint has dried, spray the ashtray with a clear varnish.