Kids and adults alike enjoy playing with clay. There are many types of clay you can purchase, from modeling clay to play dough. However, with a few simple ingredients found at home you can make your own self-hardening clay that can be painted when dry.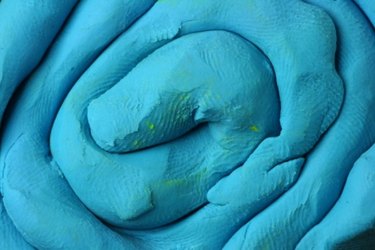 Things You'll Need
4 cups flour

1-1/2 cups salt

1-1/2 cups water

Mixing bowl

Wooden spoon
Step 1
Pour the salt and flour into the mixing bowl. Mix well with a wooden spoon.
Step 2
Add water and stir until you reach the desired consistency. You should be able to form the dough into a ball. You do not want it too sticky, so add the water slowly.
Step 3
Knead the dough until it adheres well, has a clay-like consistency, and is no longer crumbly.
Step 4
Make your clay project and set it aside to dry. It will take at least two days and possibly more at room temperature, depending on the thickness of the project.
Step 5
Store unused clay in the refrigerator in a plastic bag. Before reusing it, allow it to warm to room temperature in its plastic bag.