Things You'll Need
Aluminum foil

Cookie sheet

Oven

Timer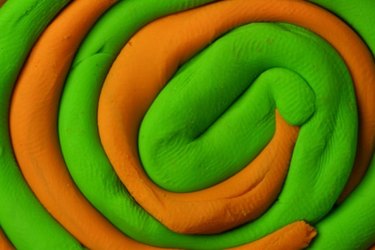 Fimo is a type of polymer clay, also known as Sculpey or Premo. Fimo is a very versatile and malleable medium to work with. It is a fun project for kids and adults alike. Fimo can be purchased at most craft stores and is available in all different colors and hues. Proper baking is important with Fimo. Overcooking or too high temperatures can lead to burnt or cracked clay; undercooking or temperatures that are too low will not properly harden your Fimo. Due to it's chemical content, it is suggested that you bake your Fimo in a dedicated oven, such as a toaster oven.
Step 1
Preheat your oven to 230 degrees Fahrenheit.
Step 2
Line your cookie sheet with aluminum foil. Arrange your Fimo on top of the aluminum foil.
Step 3
Place your Fimo in the oven. Set your timer for 30 minutes.
Step 4
Remove the cookie sheet from the oven. Allow 5 to 10 minutes for your Fimo clay to cool down before handling.
Tip
If your Fimo sculpture is especially thick, it may need to cook for slightly longer. If your sculpture is particularly thin or miniature, cook your Fimo at 225 degrees Fahrenheit.