​eHow may earn compensation through affiliate links in this article.​
Homemade apple butter is surprisingly easy to make! Despite the name, apple butter does not contain butter, making it naturally dairy-free and vegan-friendly. All you need to prepare apple butter is apples, cane sugar, brown sugar, and spices like cinnamon, nutmeg, and cloves. While apple butter can be made on the stove top or in a slow cooker, preparing it in an Instant Pot is a goof-proof method that comes together very quickly.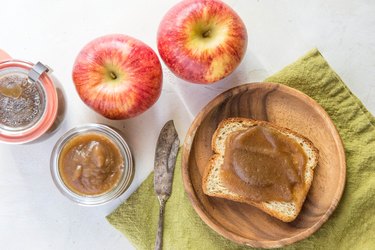 Step 1
Use a vegetable peeler to peel the apples. Chop the apples into 1 to 2-inch hunks.
Step 2
Transfer the chopped apples, water, sugars, spices, sea salt, lemon juice and vanilla extract (all of the ingredients) to your Instant Pot or pressure cooker.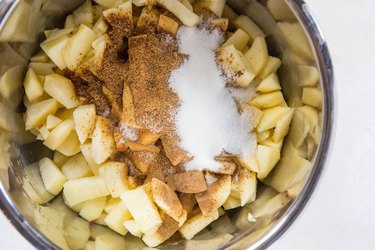 Stir everything until well-combined.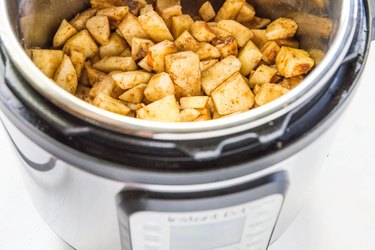 Step 3
Secure the lid on the Instant Pot and press 'Manual' or 'Pressure Cook.' Set the time for 15 minutes and pressure cook on high. Make sure the steam release it set to 'Sealing.' Once the Instant Pot has finished cooking, allow it to naturally release the steam.
Once the steam has released, remove the lid of the Instant Pot.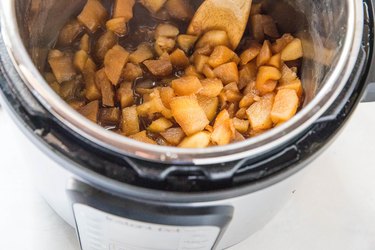 Step 4
Use a potato masher to mash the apples, or an immersion blender to blend the apples to desired consistency. You can also transfer the cooked apples to a blender and blend until smooth (if you go this route, be sure the apples have cooled substantially before blending).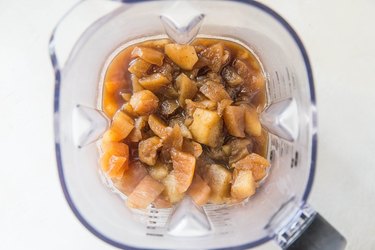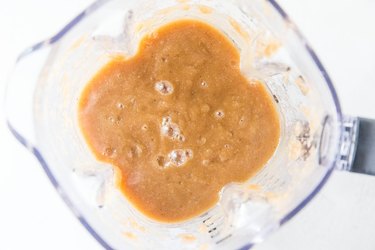 Step 5
Pour the apple butter into sanitized jars and secure the lids. Refrigerate until chilled and ready to use.